Effective Pest Control In Cynthiana, Kentucky
To keep the homes and businesses of Cynthiana protected from the many pests that live throughout Kentucky, trust the local and dedicated pest control experts at Action Pest Control. At Action, we have one mission in mind, to provide effective pest control solutions in a timely and affordable manner. Trust our team to eliminate insects and other pests from your Cynthiana property and stop them from returning throughout the year. Call the Kentucky pest control experts at Action Pest Control today to learn more about our residential and commercial pest control solutions.
Residential Pest Control In Cynthiana, KY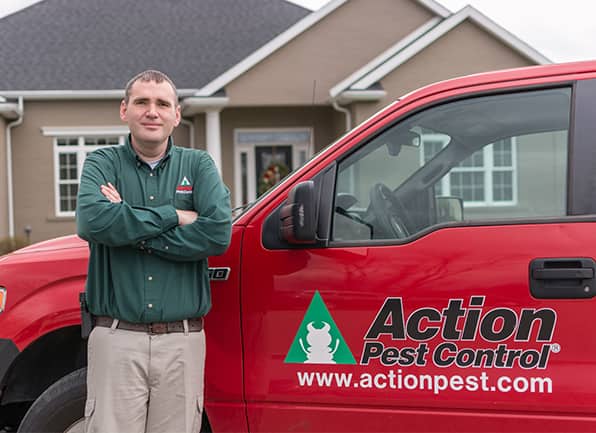 Action Pest Control offers year-round, comprehensive residential pest control programs that work to solve any home's unique pest problems. We know that each homeowner has their own needs and budgetary requirements, so our professionals work with them to ensure they are met.
Our year-round residential pest control programs are as follows:
Essential - affordable home pest control services

Advanced - quarterly interior and exterior pest control

Complete - bi-monthly pest and termite control
To learn more about our comprehensive solutions to your Cynthiana home's pest problems, contact the highly trained professionals at Action Pest Control.
Guide To Rodent Control In Cynthiana, KY
Turning to a professional to keep rodents out of your Cynthiana home is the best way to protect it and your family from the many problems rodents can cause. Rodents can contaminate food, create health risks, damage structures, and create sleepless nights for homeowners. To solve a problem with rodents in your Kentucky home once and for all, Action Pest Control has developed an effective rodent control program. The program includes a thorough inspection, the implementation of bi-monthly or quarterly treatment visits, and tailored treatment protocols. And we perform follow-up inspections to make sure the elimination process was successful and to complete minor exclusion tasks (pest-proofing) to eliminate pest entry points as well as things that may be attracting rodents to your property. Our rodent control program allows you to choose between a stand-alone service or one of our year-round residential pest control programs. To learn more about working together to eliminate rodents, give us a call today.
Commercial Pest Control In Cynthiana, KY
Commercial pest control services protect commercial facilities from the damage, dangers, and health risks that pests can introduce. At Action Pest Control, our commercial pest management program provide the services needed to eliminate pests currently living in your Cynthiana commercial facility. We determine what is attracting them and provide routine maintenance visits to prevent their return. Our 10-step preventative pest management program will create an environment that won't attract pests to help keep customers and employees happy! To learn more about our eco-friendly approach to commercial pest management, reach out to Action Pest Control day.
Protect Your Cynthiana, KY Property From Termite Damage
Action Pest Control has been protecting properties from wood-eating termites since 1946. Our many decades of experience have allowed us to develop comprehensive termite solutions to protect Kentucky homes from the extensive structural damage a termite infestation can create. Our Five-Step Termite Control System includes:
A comprehensive inspection

Treatment using Termidor®

A three-month termite elimination inspection

An annual termite inspection

A money-back guarantee and damage warranty
Let the professionals at Action Pest Control protect what is most likely your biggest investment, your home, from the damage that wood-destroying termites can cause. Whether you have a current issue with termites or would like to prevent future problems with them, contact Action Pest Control today.

Schedule Your

Free Inspection

Complete the form below to schedule your no obligation inspection.