Trusted Pest Control In Velpen, IN
Velpen is a small, tight-knit unincorporated community that's tucked away in the southwestern corner of Indiana. This primarily residential area is peppered with local businesses, but people choose to live here for the peace and quiet more than anything. Major cities are all at least an hour away, which is why people who seek country living opt for Velpen.
When pest problems occur, Action Pest Control will be there with trusted Pike County pest control. As one of the largest pest management companies in our region, we have always been dedicated to timely and effective service that delivers real results for our customers. Time and time again, homeowners and businesses choose to work with us because our team is state-certified, we have a board-certified entomologist on staff, and we offer environmentally friendly service options. Our "Action Advantage" is unlike any other pest control solution out there, and we look forward to putting it to work on your property. For more information on our services, please contact us today.
Residential Pest Control In Velpen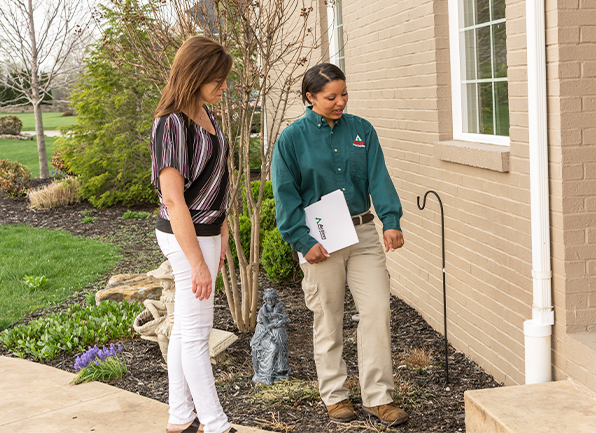 At Action Pest Control, we're a locally owned family business, so we do everything in our ability to protect our Velpen community. Our pest control service comes with a 100% satisfaction guarantee and is based on the principles of Integrated Pest Management. This means that everything we do is to create long-lasting pest-free results. Two of our key general pest control programs are:
Advanced: If you're looking for comprehensive pest control, this program is for you. It provides interior and exterior services on a regular basis with free re-services as needed. We'll set rodent stations, eliminate cobwebs, and windowsill vacuuming, among other things.

Complete: This program offers the added benefit of termite monitoring, termite inspections, and an annual attic inspection.
For more information on our residential pest control services in Velpen, please contact us today.
Commercial Pest Control In Velpen
Whether you're looking to take preventive measures against the pests that threaten your Velpen business, or you're looking to eliminate an active issue, Action Pest Control has pest control that can help. We follow Integrated Pest Management methods in order to deliver comprehensive pest control that actually works for your business. This allows us to treat the underlying issues of your pest concerns so that we can eliminate them completely.
No matter what the service is, we always begin with a total property inspection to determine hot spots, entry points, and conducive conditions. We focus on proper pest identification, installing rodent exclusion, sanitation, harborage reduction, eco-friendly product application, and mechanical controls. We will closely monitor the results of our services so that we can make any necessary adaptations depending on the current issues you face. To learn more about the benefits of our commercial pest control services in Velpen, please call us today.
Everything You Ought To Know About Carpenter Ants In Velpen
Carpenter ants are one of the most damaging ants that you might encounter in Velpen, but there's more that you need to know about them. Some of the things you should know include:
Carpenter ants are one of the largest species of ant and come in various colors that range from dark red to brown to black. They also have prominent front antennae that sit at 90-degree angles.

They are attracted to wood that's suffered from water damage or fungus.

These ants burrow inside of wood so some of the signs of an infestation include sawdust-like shavings near entry points, wood that has a shredded appearance, and hollow-sounding walls.

While carpenter ants are not considered a serious health threat, they do have very powerful jaws, which can lead to painful bites, and when they bite, they inject formic acid into your bloodstream.
To learn more about how carpenter ant control in Velpen can protect your property, call Action Pest Control today.
What Is Causing All These Mosquitoes In Velpen?
Mosquitoes are primarily seasonal pests, which is why you might notice an influx of them between the seasons of spring and fall, with the peak taking place over the summer. These pests require heat and humidity in order to reproduce, and the season provides them just that. Another factor as to why you might be noticing more mosquitoes is because of the status of your property. Things like excessive shade, tall grass, areas of stagnant water, and yard debris all produce conducive conditions for living and breeding.
A mosquito's goal is to secure the human blood that the female needs to lay eggs, so a supply of people and the promise of food will also attract more mosquitoes. Things like wearing scented hair care products, dark-colored clothes, and sweating a lot all make you more enticing to mosquitoes. And finally, if mosquitoes have had a blood meal, they can lay up to 100 eggs at a time, which might be why you're noticing more of them. For more information on effective mosquito control in Velpen, contact Action Pest Control today.

Schedule Your

Free Inspection

Complete the form below to schedule your no obligation inspection.