Trust The Experts At Action To Resolve Your Rodent Problem
It's a fact - mice and rats enjoy the comforts of OUR homes. These rodents use gaps and cracks, vents or even open doors to gain entry. Infestations are often a result of improper or lack of sealing potential entry points as well as interior and exterior sanitation. Once inside, they can become a threat to human health and property. Mouse droppings, which resemble small grains of rice, as well as rat droppings can contaminate food and surfaces. Rodents can also cause extensive damage to food and personal property and create potential fire hazards with their constant gnawing on building materials including support beams and electrical wires. What's more, rodent infestations can lead to other pest problems with stored pantry pests like Indian meal moths. At Action Pest Control, we understand the dangers house mice, deer mice, Norway rats, and roof rats can cause. That is why we offer residents in IN, KY and IL, effective rodent control solutions for their homes!
Our Rodent Control Process
Our rodent control programs are designed to eliminate any rodent infestation while helping you maintain a pest free environment. Our services include:
Inspection
A thorough inspection to properly identify the species, their preferred habitats, and to determine the extent of the infestation accurately. Follow up inspections are also conducted to determine if elimination was successful.
Treatment
Action will implement a treatment protocol based on the specific rodent and that is suited for the home. For those with children and pets present, Action relies on non-chemical rodent control methods including varying trapping methods. Rodent baiting is another effective technique used by Action for getting rid of mice and rats. The frequency of our rodent control services vary but are typically performed on a bi-monthly or quarterly basis in residential settings.
Minor Rodent Exclusion
Also known as pest proofing, minor exclusion may be performed as permitted by the homeowner to eliminate entry points and harborages. Conditions that could be contribute to a rodent infestation include excessive vegetation on the exterior, improperly stored food, and improperly sealed garbage.
If you have noticed any rodent activity, trust the experts at Action. We have the workforce, expertise and proven pest control methods to solve any rodent problem, big or small!
If you're looking for a home pest control plan that guards against common insects and rodents and that offers superior protection against destructive termites and termite damage, you've come to the right place. Our Premier home pest control program addresses infestations of ants, spiders and other house-infesting insects but that's not all. When you sign up for this program, you'll enjoy all the benefits of the Complete pest control program plus additional termite control services and termite warranties.
What Does Premier Home Pest Control Include?
When one of our trusted pest control specialists arrives at your home, here's what you can expect:
A thorough inspection of your home and property to determine if pests are present, and if so, identify what types of insects and rodents are infesting the house. The locations of the pests will also be noted, as will any conditions that are attracting and/or sustaining them.

Any necessary treatment(s) to get rid of existing pest activity. Depending on the time of year, this may include treating potential entry points on the exterior; residual barrier application to the exterior perimeter, as well as landscaping; nearby tree bases, driveways, and other areas close to the house; treatment of crawlspaces and attached garage interior if applicable or accessible; and much more!

Exterior cobweb removal

Window sill vacuuming

Placement of exterior rodent station(s)

Pest proofing to eliminate potential entry points as needed

Termite treatment with Termidor® or Sentricon®

Termite warranty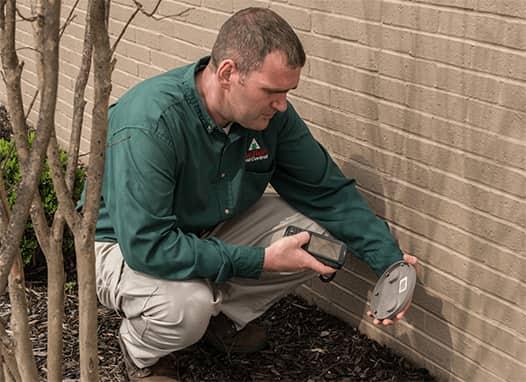 Pests Covered In This Program
Ants, Spiders, Subterranean Termites, Cockroaches, Mice, Black Widow Spiders, Brown Recluse Spiders, Stink Bugs, Box Elder Bugs, Rats, Silverfish, Earwigs, Fleas, Ticks, Crickets, Carpet Beetles, Clover Mites, Ground Beetles, Ladybugs, Centipedes, Millipedes, Yellow Jackets & Wasps, Hornets, Carpenter Bees, Carpenter Ants, Fruit Flies, House Flies, Fungus Gnats, Cigarette Beetles, Red Flour Beetles, Drugstore Beetles, Indian Meal Moths, Clothes Moths, and Springtails
The Premier Home Pest Control Program also includes follow up services to treat the inside and outside of your home, depending on the pest problem; an annual termite inspection, an annual attic inspection, fully guaranteed services and, of course, simple scheduling. Should you have pest problems between your regularly scheduled services, we'll come out to address the issues free of charge. With this program, we also offer discounts on other pest control services!
I'M INTERESTED! OR CALL (877) 420-0849

Schedule Your

Free Inspection

Complete the form below to schedule your no obligation inspection.