Effective Pest Control In Winchester, Kentucky
Winchester is a beautiful city that offers the classic feel of rustic buildings and a historical atmosphere, along with plenty of shops and recreational activities. Unfortunately, it also has the problem of invasive pests. Winchester's residential and commercial property owners face the stress of dealing with rats, mice, spiders, bed bugs, stinging insects, cockroaches, and many other pests. But with help from the pest professionals at Action Pest Control, you can have peace of mind knowing that your Winchester property is protected. Action Pest Control has what you need for a pest-free future for outstanding pest services and professional service technicians. Contact us today for more information on all of our pest control service options!
Residential Pest Control In Winchester, KY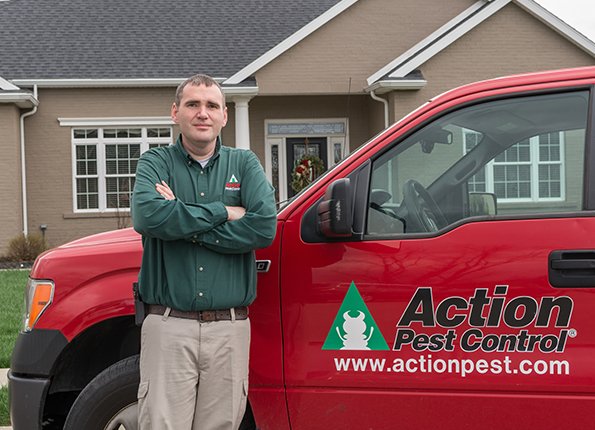 Every Winchester resident needs protection against the destruction, disease, and stress that pests can bring to residential properties. At Action Pest Control, we offer three home pest control plans. With our Complete, Advanced, and Essential residential pest control programs, you benefit from quality customer care, professional treatment options, and effective services to cover all of your pest control needs! If ants, rodents, stinging insects, or any other dangerous or nuisance pests are disturbing your peace, Action Pest Control has a solution for you.
Reach out to us today to learn more about how we protect Winchester homes from pest invasions and what we can do to protect your residential property!
How Dangerous Are Mosquitoes In Winchester, KY
Did you know that mosquitoes are dangerous? It's true. When you look at the statistics, mosquitoes cause more human deaths worldwide than any other animal on earth. With over 750,000 deaths per year caused by dengue, malaria, yellow fever, West Nile disease, and Zika virus, it's safe to say that mosquitoes are incredibly dangerous to humans. Professional pest control services from Action Pest Control are your best bet to protect yourself and your family from the threat of mosquito infestations. We provide mosquito treatment and prevention services throughout the mosquito season. Avoid the stress, frustration, and danger of mosquitoes this year by reaching out to the certified pest professionals at Action Pest Control!
Commercial Pest Control In Winchester, KY
A Winchester business is no place for pests. Pests such as rodents, termites, cockroaches, and spiders create an unsanitary environment for customers and employees while also threatening the integrity of a company. With the reputation of your business on the line, your best solution for pest infestations is quality pest services from Action Pest Control. The pest professionals at Action have the tools, skills, and experience to inspect, identify, and treat pest problems in a commercial environment. Whether your company is in the food processing industry, healthcare, or anything in between, we have a commercial pest control solution that will work for you. Reach out to Action Pest Control today to learn more about how we conduct our commercial pest inspections or ask what pest services are right for your business!
How Do I Know When Termites Have Infested My Winchester, KY Home?
Discovering termites in your Winchester home is a stressful experience. Something worse, however, would be NOT discovering a termite infestation on your property when termites are eating away at your home. Termites can cause significant structural damage if left unchecked. It is important to know how to identify the signs of a termite infestation on your Winchester property.
Tight or sticking windows. Termite damage can cause the wood of a window frame to warp, which makes your windows harder to open.

Frass. A mixture of termite droppings, dust, and debris.

Mud tubes. Termites avoid the light. Mud tubes are one way to travel from place to place without being exposed to sunlight or predators.

Shed wings around your foundation and window sills. Reproductive termites shed their wings once they have found a place to nest.

Termite swarmers. New winged reproductive termites appear in swarms during spring to seek a new location for their colonies.
If you have noticed these termite warning signs around your Winchester home (or you want to be sure that your home does not have termites), contact the licensed pest technicians here at Action Pest Control. With our termite treatment plans, you can have a termite-free property in no time at all!

Schedule Your

Free Inspection

Complete the form below to schedule your no obligation inspection.