Effective Pest Control In Palestine, Illinois
Palestine, Illinois is a great place to work, go to school, live, and visit. Palestine is a little town that has a lot to offer its residents and visitors. To keep this "pioneer city" protected from the many pests that also call Crawford County home, Action Pest Control offers effective and affordable pest control services. Whether you own a home or business, we can protect it from being damaged by insects and rodents. Trust our company to provide the services needed to maintain a pest-free environment throughout the entire year. Contact Action Pest Control today to learn more about guarding your Illinois property against pests.
Residential Pest Control In Palestine, IL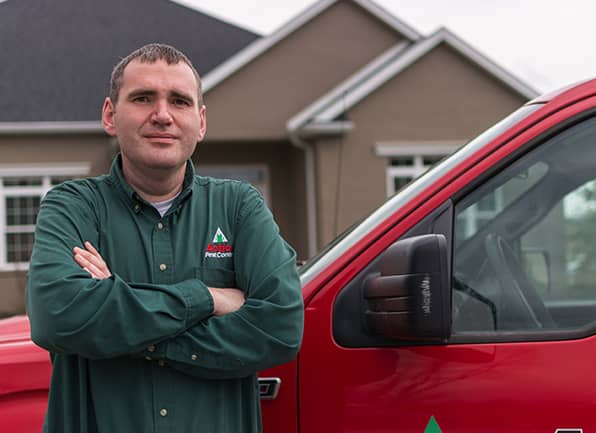 Action Pest Control offers four different year-round home pest control programs for Palestine homeowners to choose from. Our pest control programs are based on effective pest management solutions and are performed by trained and educated professionals.
A quick overview of our residential pest control plans is listed below.
Advanced: Exterior pest defense and interior pest treatments.

Complete: Exterior and interior pest treatments and termite monitoring.
To learn more about protecting your home from common Illinois pests, contact Action Pest Control today.
Tips To Avoid Mosquitoes In Palestine, IL
To help you avoid being bitten by disease-spreading mosquitoes, Action Pest Control has developed effective mosquito control programs. We begin with an inspection of your property where our professionals locate mosquito-breeding and resting sites and provide treatment using EPA-approved products. The mosquito control products reduce the number of incoming mosquitoes and prevent mosquito larvae from hatching. Our mosquito control services can be performed as a seasonal monthly service from April through October or as a one-time service to treat your yard before hosting a large party or other outdoor events. In addition to our professional services, the following can help to make your property less attractive to mosquitoes:
Keep your lawn cut short.

Remove areas of overgrown or dense vegetation from your property.

Reduce or eliminate areas of standing water on your property.

Keep containers that can collect water stored upside down when not in use.
Commercial Pest Control In Palestine, IL
Destruction of inventory, facility, equipment, food contamination, loss of business, and disease introduction are just some of the many problems pests can cause when living inside your Palestine commercial facility. Action Pest Control can successfully control pests in commercial facilities by creating an environment that is not attractive to pests. Our highly trained and experienced pest professionals provide exceptional protection inside commercial facilities by implementing our 10-step preventative pest management program:
Inspection

Monitoring

Identification

Sanitation

Exclusion

Harborage reduction

Mechanical controls (traps)

Environmental controls

Product application

Documentation
We understand that there is no one-size-fits-all solution to pest problems; we know each business we serve has its own unique needs, and we will create a plan to meet those needs. To develop a customized commercial pest management plan for your Palestine commercial facility, call Action Pest Control today.
How To Identify Termite Damage In Palestine, IL
If termites are living on your property and causing damage, you may notice some of the following:
Mud tunnels on the foundation, basement walls, or ground, traveling toward your home. Termites build mud tunnels to travel back and forth safely from their nest to food sources.

The presence of termite swarmers (winged reproductive termites) inside your home. Reproductive termites will emerge from a mature colony to mate and create new colonies.

Finding shed wings along window sills or in doorways.

Wood that sounds hollow or "thuds" when you tap on it with a hammer.

Paint on walls that looks like it is bubbling or splintering.

Tiny holes in wooden structures or walls with small piles of sawdust around them.
To protect your home from termite damage, partner with Action Pest Control; our effective termite control services can be completed on their own or as part of one of our year-round residential pest control plans. To learn more about protecting your Palestine home from wood-eating termites, contact Action Pest Control today!

Schedule Your

Free Inspection

Complete the form below to schedule your no obligation inspection.