Effective Pest Control In Noble, IL
Despite its small size, or perhaps because of it, the village of Noble, Illinois provides property owners with everything they need in regards to a safe, comfortable place to live. At just over one square mile of land, Noble nevertheless preserves an excellent spot for Illinois residents to live that gives them comfortable distance from Chicago, Indianapolis, and other metropolitan areas in the region.
Unfortunately, the same factors that make Noble a great place to live for people also make homes and businesses in the area appealing to a number of destructive and dangerous pests, including rodents, cockroaches, spiders, mosquitoes, and more. Pests feel at home in Noble, which is why residents turn to professional pest control services for help.
For the absolute best pest protection around, look no further than Action Pest Control. As one of the largest pest control firms in the Midwest, we're proud to service over 23,000 happy customers. For over 70 years, it has been our mission to provide comprehensive pest protection to homes and businesses throughout Illinois, specifically Richland County and the surrounding areas. Our team of pest experts offers timely services and effective solutions that you can count on. Whether you own a home or business in Noble, the team at Action has the tools and experience you need to keep your property protected year-round against all the pests found in Illinois.
Residential Pest Control In Noble, IL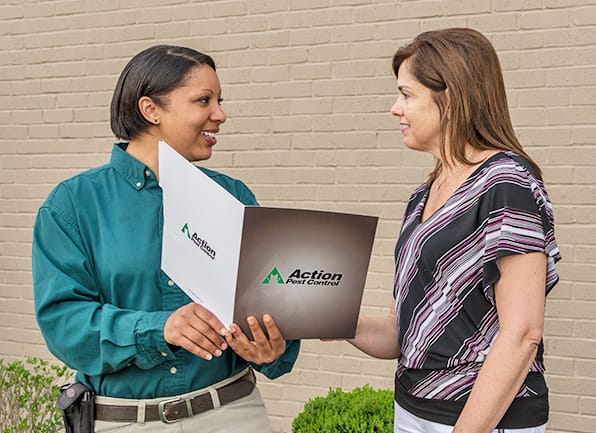 We offer three levels of pest protection: Advanced, Complete, and Premier. As our most popular program, our Premier Plan, gives you the best year-round pest protection available. Once the nature of the pest problem is accurately identified, we customize an extensive treatment strategy that targets the infestation at its core. From the interior to the exterior and every space in between, we have you covered. Once we complete our initial service, we come back bi-monthly or quarterly to follow up and make sure your property remains pest-free moving forward. Call us today to hear more about our home pest control plans and what they can do to protect you and your loved ones from the harms of pest activity.
Commercial Pest Control In Noble, IL
No matter the industry, nothing kills a business faster than a pest infestation on the premises. Unfortunately, your Noble business is brimming with pest attractants, making your commercial property extremely susceptible to the nightmare of pest infestation. When a business is invaded by pests, every aspect of your operation is compromised. Between your employees, your customers, the property itself, not to mention your reputation – pest infestation touches every part of your business, and that's why it's smart to get ongoing protection from the pest professionals.
Inspection: we begin by surveying the interior and exterior of your building to locate problem areas.
Monitoring: We make sure we can see all pest activity, especially what happens when we're not there. Our monitoring stations will help us know what's going on in and around your commercial facility 24/7.
Identification: It is important to identify the pest species present to take proper action for prevention and control.
Sanitation: To keep pests away for good, you must eliminate areas of food, water, and shelter. This involves cleaning and planning.
Exclusions: Permanently eliminating pests from your property involves identifying and sealing entry points.
Harborage Reduction: Finding and eliminating areas where pests nest and rest will reduce your overall activity.
Mechanical Controls: Sometimes its necessary to strategically install traps to capture or kill pests.
Environmental Controls: Sometimes simple barriers, changes in lighting, or other environmental changes to your property will help mitigate pest activity. Our experts will survey your space and make recommendations as needed.
Product Application: We see this as a last resort. If needed, we safely apply products to encourage the successful elimination of pests.
Documentation: Keeping records of pest activity and treatments helps us find trends in activity and plan for the future. We use the PestPac mobile service which you can always view online.
Our team of highly trained pest technicians utilizes trusted IPM (Integrated Pest Management) strategies to fully rid your business of nuisance pests and effectively prevent property damage, contamination, and overall destruction to your business and your facility. We also help prepare you for third party inspections and interior quality assurance audits, giving you the best chance at a successful future. Contact us today to get started.
Three Signs Rodents Leave Behind In Noble, IL
Rubbing, gnawing, and chewing marks on food packing, wood, and along walls.
Scratching and scampering noises coming from inside the walls at night.
Droppings and nesting materials left behind in active areas.
Problems Caused By Termites In Noble, IL

Schedule Your

Free Inspection

Complete the form below to schedule your no obligation inspection.