Effective Pest Control In New Harmony, Indiana
Founded in 1814, the historic town of New Harmony, IN, offers beautiful buildings, quaint shops, and a place to call home. Self-proclaimed Harmonists, the townspeople of New Harmony, have a lot of pride in living here. Unfortunately, that doesn't take away the fact that pest infestation is a year-round threat to all New Harmony property owners. If you want to protect your home or business from pest infestation, you've come to the right place.
Welcome to Action Pest Control, one of the largest pest management firms in the Midwest. We are a family-owned and operated company that has been servicing local properties with residential and commercial pest solutions since 1947. Our goal has always been to offer comprehensive pest control that is effective, efficient, and dependable. Reach out to us today to discuss your pest control needs, and we'll get started.
Home Pest Control In New Harmony, IN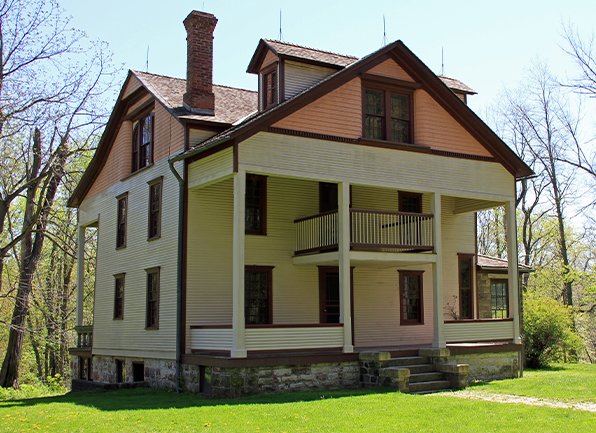 Your New Harmony home is every pest's dream, and that means you and your loved ones are exposed to the threats of pest infestation. The best way to guard your family and your home is with residential pest protection from the team at Action Pest Control. Each of our home services plans guarantees coverage from over 40 common pests, including ants, mice, termites, stinging insects, spiders, roaches, and many others.
Essential – Includes exterior treatment.

Advanced – Includes exterior and interior.

Complete – Includes exterior, interior, and termite monitoring.
Whichever home protection plan you go with, we customize our service offerings to meet your needs. Our monthly, bi-monthly, or quarterly service visits are scheduled at your convenience to maintain pest-free conditions moving forward. We've been servicing Posey County properties for over 70 years, and we offer unmatched knowledge and expertise that guarantees lasting results you can feel good about. Contact us to learn more!
Commercial Pest Control In New Harmony, IN
It can be difficult to keep up with all the challenges that come with running a business. Something you certainly don't need to be added to that list of challenges is the presence of pest activity in your facility. When pests get into your business, they cause serious issues, and it's essential to protect yourself. Our commercial pest control services cover a wide range of facilities from pest activity, some of which include hotels, apartments, warehouses, industrial complexes, and many others.
With an expert entomologist on staff, we customize a treatment strategy that's right for you and your pest situation. Our Integrated Pest Management (IPM) methods and ten-step preventative pest program eliminate pest activity and protect your property from future outbreaks. We will help prep your property for third-party inspections and interior quality assurance audits. Get in touch with Action Pest Control today to set up your initial inspection, and we'll get the ball rolling.
New Harmony, IN Homeowner's Guide To Mouse Control
Discovering mice on your property is an absolute nightmare. They're incredibly unsanitary, and they pose a real threat to your health. They can also cause structural damage, compromising your safety. Here are some preventative measures that you can take to avoid an infestation of mice::
Block off the entry and access points.

Fix leaky pipes and faulty faucets.

Keep tree trimmings and woodpiles away from the foundation perimeter.

Maintain cleanliness, and eliminate clutter around the home.

Promptly wipe up any spills and crumbs.

Reduce excess moisture throughout the home.

Store food and belongings in gnaw-proof containers.
While these tips are certainly helpful, none of them are entirely reliable on their own. The best, most effective way to guard your home against rodents is to rely on a team of highly qualified pest professionals. Contact the team at Action Pest Control to secure year-round protection from the presence of rodents. We have experience in the complete elimination of mice, and we'll put in place the necessary modifications to keep them out all year long.
The Dangers Of Bed Bugs In New Harmony, IN
Bed bugs are very small, nocturnal parasites that can be very hard to see with the naked eye. They hide away during the day and only emerge at night to feed on our blood. Despite what their name may suggest, it's not only areas in and around your bed that they invade. They can travel to any area of your home by hitchhiking via another person or item leaving the room.
Aside from the disturbing notion of them feeding on our blood while we're asleep, the truth is that bed bug infestation can become quite unmanageable when you're dealing with it on your own. However, don't worry, because you're not alone. Action Pest Control offers dependable bed bug detection and elimination services that bring you the comfort of knowing you won't be someone's dinner as you sleep.

Schedule Your

Free Inspection

Complete the form below to schedule your no obligation inspection.