Professional Pest Control Services In Midway, Kentucky
Midway, Kentucky is a Woodford County gem with a humid subtropical climate that is ideal not only to Kentuckians but also to local pests. Pest infestation is common in humid climates as pest intruders look for sources of food, moisture, and shelter. In order to protect your Midway home or business from the possibility of a pest infestation, you need to hire a professional pest control company.
Action Pest Control is one of the Midwest's go-to pest control companies. Our service area spans from Kentucky to Illinois and Indiana. Since 1946, it has been our goal to offer comprehensive residential and commercial pest control that is effective, efficient, and dependable. We hold ourselves to a high standard.
Home Pest Control In Midway, KY
If you own a home in Midway, it's a good idea to have a professional pest control plan set in place. Action Pest Control offers comprehensive residential pest control services, providing full coverage from over 40 household pests. Our three plans can be customized to fit your specific needs. We want to work with you to come up with a treatment plan that works for you. Our three service plans are:
Essential – Includes exterior pest protection and cobweb removal

Advanced – Includes exterior and interior pest control treatments

Complete - Includes exterior and interior pest control treatments and termite inspection and monitoring
Contact us today to discuss your residential pest control needs, we're ready to help you protect your home from infestation.
Commercial Pest Control In Midway, KY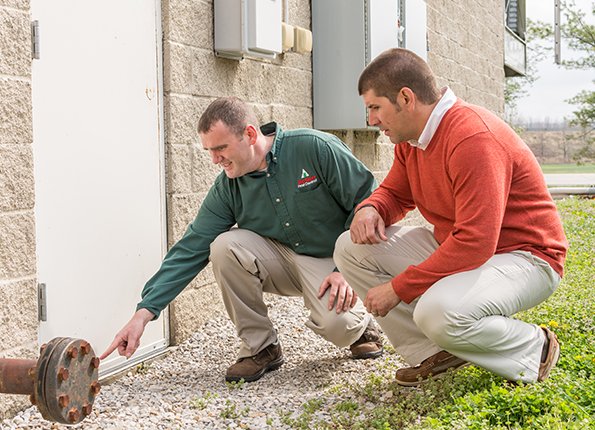 Midway is a unique town known for the abundance of distinctive restaurants and shops that line the city streets. Wouldn't it be a shame for one of these businesses to shut down due to a pest infestation? Pests can be very detrimental to a commercial facility, in particular because your reputation is at stake.

Our commercial pest control services are exactly what you need to protect your business from pest invasions. We work with many different types of commercial clients, from food-processing businesses and restaurants to healthcare facilities and multi-unit housing. Our Integrated Pest Management (IPM) methods and 10-step preventative pest program eliminates all pest activity and protects your property from future outbreaks.

Our "Action Advantage" puts the customer first, because you deserve to be in good hands. With an experienced team of highly trained pest management professionals and a board-certified entomologist on staff, we are ready to handle your pest problem, no matter the scale.

10-Step Preventative Pest Program:
Exclusion

Harborage Reduction

Mechanical Control

Environmental Inspection

Monitoring

Identification

Sanitation

Controls

Product Application

Documentation


Guide To Minimizing Mosquito Exposure In Midway, KY
Mosquitoes are more dangerous than many of us give them credit for. Yes, they leave us with annoying bites, but they also have the ability to transmit a long list of vector-borne illnesses. The best way to deal with this is to be proactive. Consider the following preventative measures when it comes to minimizing mosquito exposure:
Keep doors and windows closed when not in use.

Prevent entry using window and door screens.

Eliminate sources of standing water like buckets, tires, pets' water bowls, birdbaths, etc.

Fix downspouts and gutters to divert water away from the house.

Regularly mow the lawn and trim shrubbery and vegetation.

Use insect repellent when spending time outdoors.

Wear clothing treated with permethrin or DEET.

Wear long pants and long sleeves to prevent bites.
If you suspect a potential mosquito problem on your property, the best thing you can do is to call on the team at Action Pest Control. Our mosquito control treatments effectively eliminate mosquito activity and we make certain adjustments around the house and yard to keep them away. Contact us today for a consultation.
Do You Know How To Identify Bed Bugs In Midway, KY?
A bed bug infestation can spread very quickly, especially if you don't get on top of it in its earliest stages. In order to identify a potential bed bug problem, you need to know the signs that indicate bed bug activity. Here are four occurrences that are indicative of a bed bug problem.
Waking up with a fresh line or cluster of little red bites that you didn't go to sleep with.

Finding tiny eggshells and shed skins around bed bug hiding areas.

Seeing little red spots of blood on your linens left behind after their nightly feeding.

Noticing rusty brown excrement spots left behind on any surfaces they've touched.
The best way to take care of a bed bug infestation is to contact the team at Action Pest Control. We have the knowledge and experience to accurately identify any bed beg activity and then eradicate the problem. We treat your property from top to bottom, covering every inch of the house to make sure these bloodsuckers are no longer in your space. Contact us today to discuss your bed bug control needs.

Schedule Your

Free Inspection

Complete the form below to schedule your no obligation inspection.