Effective Pest Control In Fort Branch, Indiana
Fort Branch is a large town located in Gibson County, Indiana. To protect the people, homes, and businesses located in this midwest community from the many pests that also choose to call Fort Branch home, the local professionals at Action Pest Control offer affordable, effective, and eco-sound pest control options. Our team is ready to work with you to eliminate and control pests in your Fort Branch residential or commercial property and keep them from returning in the future. Action Pest Control offers exceptional customer service and pest control services and is proud to be a company that over 23,000 happy customers trust. To learn more about becoming one of our satisfied customers, get in touch with us today.
Residential Pest Control In Fort Branch, IN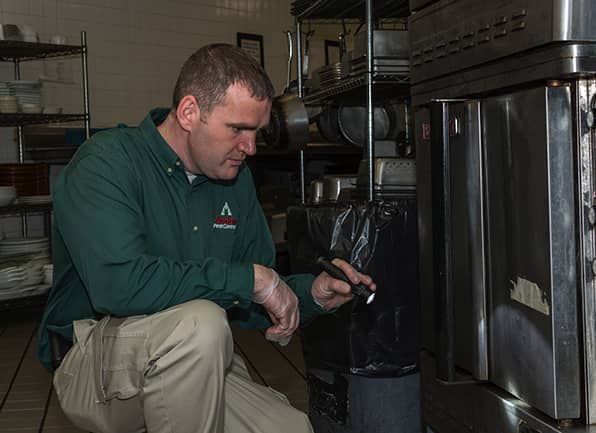 Partner with Action Pest Control and our helpful pest experts for residential pest control services you can trust. At Action Pest Control, we offer a choice of home pest control programs for our Fort Branch customers to choose from. Our Complete program offers the best protection against pests and provides superior pest and termite services. This program includes a thorough inspection of your home and property, the necessary treatment to get rid of existing pest activity, and a residual barrier application around the exterior perimeter. In addition, we provide treatment around landscaping (nearby tree bases, driveways, and other areas close to the house) and the treatment of crawlspaces and attached-garage interior.
The Complete program also includes:
Exterior cobweb removal

Windowsill vacuuming

Placement of exterior rodent station(s)

Pest proofing to eliminate potential entry points as needed

Termite inspection

Termite monitoring

Termite warranty
To learn more about protecting your Fort Branch home from insects, rodents, and other pests, get in contact with the Midwest pest control experts at Action Pest Control today!
Commercial Pest Control Solutions in Fort Branch, IN
Let the professionals at Action Pest Control take care of your business's commercial pest control needs so that you can focus on taking care of your customers and doing what you do best- running your business. For over 70 years, we have gained experience in providing commercial customers with the quality services needed to eliminate pests once and for all. At Action Pest Control, we work with you to create an environment in and around your Fort Branch commercial facility which will not attract pests. Through our Integrated Pest Management program, we will help you to eliminate existing pest problems (in an eco-friendly manner) and work closely with you to solve the root of your facility's pest problem(s). Give us a call today to learn more about implementing a long-term solution to keep pests out of your Fort Branch business.
How To Spot Termite Infestations In Fort Branch, IN
If you spot the following things on your property or in your home, there is a good chance that termites have invaded. Signs of a termite infestation often include the following:
Wood flooring in your home that feels "spongy" when you walk across it.

Doors and windows that are no longer opening and closing properly.

Wood in your home that, when you tap on it, sounds hollow.

Discovering mud tubes (about the width of a pencil) running along the walls of your home's foundation, basement, or crawl spaces.

Discovering piles of wings along walkways and decks, around doorways, or under windows. Winged reproductive members swarm from a termite colony to find a mate and start a new nest. The reproductive termites then quickly shed their wings, thus leaving behind an obvious sign of their presence for homeowners.
To protect Fort Branch properties from termites, Action Pest Control offers a Five-Step Termite Control System. This system includes an interior and exterior comprehensive termite inspection of your home.
Treatment for termites using the highly effective Termidor®, which eliminates termites through ingestion and contact, a three-month termite-elimination inspection to ensure that the infestation has been eliminated, an annual termite inspection to ensure that your home has remained termite free, and a money-back guarantee and damage warranty. To learn more about termites and protecting your home from them, give us a call now!

Schedule Your

Free Inspection

Complete the form below to schedule your no obligation inspection.