Effective Pest Control In Eckerty, IN
Surrounded by stunning views of the Hoosier National Forest, the small community of Eckerty is a primarily residential area filled with sprawling farms and developments. The community is peppered with locally-owned businesses and residents also have the benefit of small town living while Louisville is within reach. At Action Pest Control, we know that pest problems are never too far away when you live in Eckerty, which is why we've developed Crawford County pest control that is reliable and safe. We focus on methods that incorporate the latest technology while also being proven in efficacy. For customers who desire it, we offer eco-friendly options and everyone receives a 24-hour emergency response. No matter what services we provide you with, we promise to always offer the most reliable customer support. For more information on our offerings, contact us today.
Home Pest Control In Eckerty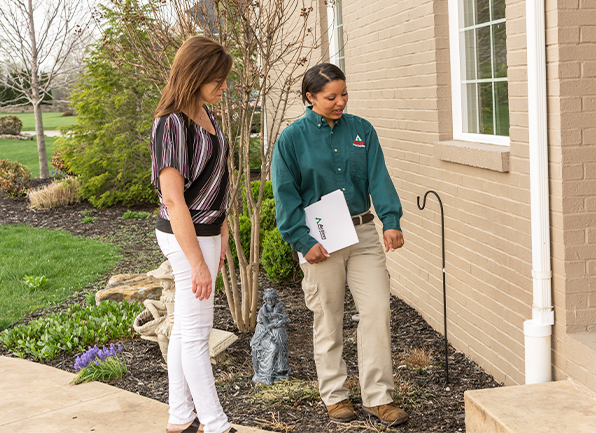 When it comes to keeping pests out of your home, you need a pest control team on your side that will get you results. At Action Pest Control, we specialize in providing residents with the treatments that they need in order to have a safe living environment. The three key plans that we offer are:
Complete. If total protection is what you need, this inclusive plan is the answer. With interior and exterior services, annual attic inspections, and termite monitoring, your home will always be pest-free.
Advanced. For the homeowner who wants a middle-of-the-road solution to pests, our interior and exterior plan offers just that. This plan comes with guaranteed services, unlimited re-treatments, and exterior rodent stations.
To learn more about our residential pest control offerings, contact us today.
Commercial Pest Control In Eckerty

At Action Pest Control, we are dedicated to bringing Eckerty businesses comprehensive pest control that yields results. Our protocol is a multi-pronged approach that looks at pest problems from all angles. We take the following steps when treating your business: inspection, identification, exclusion, mechanical controls, product application, monitoring, sanitation, harborage reduction, environmental controls, and documentation. This specific combination of steps ensures that you will receive the highest quality of work with every visit. We take the time to get to know your property and the specifications of your business in order to custom tailor a program that works for you. With our flexible scheduling, reliable customer support, and dedication to your success, Action Pest Control is the clear choice. For more information on commercial pest control, contact us today.
Do I Still Have To Worry About Mice In Eckerty?

The mice that look to move into your Eckerty home should be of concern throughout the year. While they are most prevalent when temperatures have cooled off and they're forced to find warm shelter, mice can actually be a year-round issue because of their other needs. Mice are in search of food and water, and if they sense the presence of either in your home, they will do anything they can in order to gain access to it. Things like leftovers that haven't been covered, garbage that has piled up, and even crumbs and spills are enough to attract mice through the small cracks and openings in your home. Something as simple as leaving the garage or a window open unattended may even make room for them to enter your home. Mice will also seek out leaks and moisture issues, so if your basement is humid or there are drippy faucets and pipes around, they open the door for mouse problems. Because these pests can be dangerous to your health and difficult to wrangle, the safest way to handle them is with professional mouse control from Action Pest Control. Contact us today for more information.
The Eckerty Pest Professionals You Need to Call with Your Bed Bug Problem

Bed bugs find their way inside your Eckerty property in some very furtive ways, like affixing onto secondhand furniture or your belongings after spending time in an airport or train station. Bed bugs tend to live in upholstered items, coming out only at night when they feast on your blood. When problems like these arise, there's only one solution: contacting the pros at Action Pest Control. We have devised a secure and safe way to handle outbreaks that involve K9 detection and heat treatments. This multi-step process ensures that our expert technicians will be able to properly identify your infestation in its entirety. Heat treatment is an eco-friendly solution to bed bugs that has been proven effective in addressing all stages of their development. This process also maintains the integrity of your items so that nothing is ruined in the process. To further protect your property, we offer a warranty on all of our services, so should bed bugs return while that is in effect, we'll re-service your property if necessary. For more information on bed bug control, contact us today.

Schedule Your

Free Inspection

Complete the form below to schedule your no obligation inspection.