Effective Pest Control In Crystal, IN
As a small, unincorporated community in rural Indiana, it can feel like finding proper pest service for Crystal properties is a lost cause. Big companies tend to focus on the big cities and suburbs, and locally-based pest control companies can be hit-or-miss. That's why local property owners need to turn to Action Pest Control. We focus on the underserved communities in Indiana, so you know that you're getting quality pest control right where you live. Learn how partnering with Action Pest Control can keep your property safe.
Home Pest Control In Crystal, IN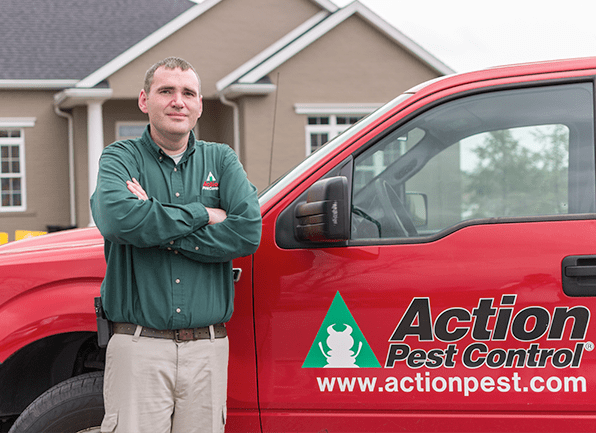 In order for your home to stay protected against invasive pests, it's important to take a proactive and comprehensive approach. That's why partnering with professionals for residential pest control is such an important part of effective pest prevention for your home. At Action Pest Control, we focus on these kinds of residential offerings:
Advanced: This more comprehensive package includes interior treatments and extra monitoring and protection against certain types of pests, like rodents.

Complete: The plan with the best protection for your money provides all the services in our other plans, with extra defenses against destructive pests like termites.
Keep pests out of your Crystal home with residential pest services from Action Pest Control.
Commercial Pest Control In Crystal, IN
One of the things people forget about when dealing with the day-to-day bustle of running a business is the damage pests can do. From literal property damage to hurting your reputation in the community, the costs of an infestation are high. That's why it's always better to pay for complete protection offered by the commercial pest control services of Action Pest Control rather than wait for pests to become a problem before you deal with the threat. Here's how we help businesses in Crystal:
Free Estimates: A simple call or visit to our website can get you a free estimate of what our services will cost for your size of the property. This helps you plan and budget accordingly.

Inspections: The first step of our thorough process is to inspect your property for pest activity, factors that attract pests, and notable areas of concern or daily activities that might be increasing your level of risk.

Control Services: From early monitoring and exclusion services to a host of pest elimination tactics, we provide comprehensive ways to protect your business from pest infestations.
For commercial pest control in Crystal that you can trust, contact Action Pest Control today.
How Can I Tell If My Crystal Home Is At Risk For Spider Problems?
People often forget that pests can happen to anyone, especially spiders. That's because, while other pests are attracted to your home by food, water, and shelter, spiders are instead attracted by those other kinds of pests. They hunt the invasive species that can be found in your yard and inside your home, which is why combating house spiders is a real concern for every Crystal property owner. One of the best ways to make sure your home never falls prey to spiders and their bites is to partner with experts early. At Action Pest Control, we can provide inspections that root out spiders or the pest populations that attract them. Our exterior services even include de-webbing and sweeping that disrupts spider environments and discourages the future accumulation of pest problems. For protection against house spiders in Crystal, turn to Action Pest Control today.
What Not To Do About Termites On Your Crystal Property
Termite damage isn't something you want to take a chance on. While you should take a proactive approach with all kinds of pest populations, you can't wait until termite activity is evident before you take protecting your property from these insects seriously. The damage termites cause in homes and businesses can be incredibly expensive, which is why the cost of proper termite treatments is always better than trying these kinds of approaches:
Wait-and-See: By the time the signs of termite activity are noticeable, they may already have chewed through walls and other structural woods, which is why you need to turn to thorough inspections and monitoring services long before you suspect a termite colony.
Underestimate Other times, people underestimate just how quickly termite populations grow, and how quickly this can translate to big property damage. If you notice the signs, contact professionals right away.
DIY: Trying to completely eliminate termites on your own almost never goes well. For one, their colonies can span far larger patches of your property than you realize, so focusing on just where the damage is won't cure the problem. For another, only experts know the methods that effectively get rid of an entire termite colony.
For termite treatments that actually work, contact Action Pest Control today.

Schedule Your

Free Inspection

Complete the form below to schedule your no obligation inspection.