Professional Pest Control Services In Bloomington, IN
Bloomington is a city found in Southern Indiana and offers a home to families and students alike; Bloomington is lucky enough to be a home away from home for all the students who attend Indiana University! Bloomington provides something for everyone, diverse neighborhoods full of character, a vibrant downtown, thriving businesses, and best of all, access to Big Ten sporting events! The professionals here at Action Pest Control want to make sure that your Bloomington home or business remains free of the pests who also, unfortunately, call the large city of Bloomington home. We take pride in offering all of our Midwest customers timely services and effective, budget-friendly solutions. Trust our professionals to provide you with the residential or commercial pest control services that you deserve and want! Contact Action Pest Control today to learn more about any of our highly effective solutions to common Indiana pests!
Residential Pest Control Services In Bloomington, IN
At Action Pest Control, we offer four residential pest control options that allow customers to pick the one that works for them. Through any of our comprehensive residential pest control programs, you will be sure to receive effective pest management solutions that are always delivered when convenient for you! By partnering with us, you will have peace of mind knowing that your Bloomington home is protected from common household pests all year long!
Advanced pest control - the advanced program provides customers with both exterior pest defense and interior pest treatments. It also includes cobweb removal, window sill vacuuming, the placement of exterior rodent stations, rodent control services, as-needed pest proofing, unlimited services calls, and services that are fully guaranteed!

Complete pest control - the Complete program is our most inclusive program and provides the most protection from your home. This program includes everything found in the Advanced pest control program, annual attic inspection, termite monitoring services, and termite inspection.
Tips To Avoid Bed Bugs In Bloomington, IN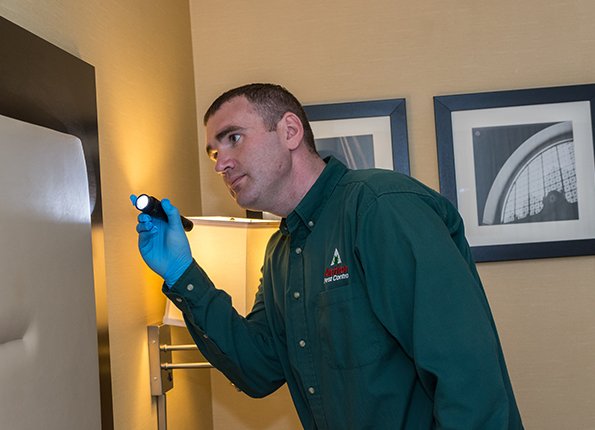 To eliminate bed bugs that have entered your home, our Action Pest Control bed bug detection team will perform a thorough inspection of your property. If a bed bug infestation is discovered, we can provide fast, effective, eco-friendly (no chemicals), and non-invasive treatment. At Action Pest, we highly recommend heat remediation; our heat remediation service provides the complete elimination of any size bed bug infestation in (typically) just one treatment. It also allows for re-entry into your property the very same day. Whether you have adults, larvae, nymphs, or eggs in your Bloomington home or business, we will find them and quickly eliminate them.
To help prevent bed bugs from finding their way into your structure in the first place, Action Pest Control offers the following prevention tips:
Know what bed bugs look like: adults grow to about 1/4 of an inch in length; they are reddish-brown in color, oval and flat in shape, are wingless, and have six legs.

Know what the common signs of a bed bug infestation in your home are: tiny droplets of blood or black streaks found on linens, mattresses, and box springs; piles of their molted skins underneath of pillows, mattresses, and box springs; in the case of a large infestation you may notice a musty smell in the air.

Keep belongings up off of the ground of public places.

Inspect a hotel room you will be staying in before bringing your luggage into it.

After returning home from a trip, immediately wash all clothing in hot water and sanitize all suitcases.

Do not purchase used mattresses or box springs for your home or business.
Contact us today to schedule a bed bug inspection for your Bloomington home or business!
Protect Your Bloomington, IN Business From Pests
To provide you with the customized pest control services that you need to protect your Bloomington, Indiana commercial facility from pests, we rely on the principle of Integrated Pest Management. Our highly trained, experienced, and dedicated service professionals will work closely with you to eliminate any current pest issues your facility may be experiencing. We will then get to the bottom of the pest activity in your facility to completely resolve it and help prevent future pest infestations.
Our 10-step preventative pest management program includes:
Inspection - A perform a complete inspection of your facility.

Monitoring - Monitoring includes the use of glue boards, mechanical traps, insect light traps, pheromone traps, rodent bait, and monitoring stations.

Identification - Proper identification is key to the success of any treatment plan.

Sanitation - Putting into place proper sanitation measures is key to reducing the need for product application.

Exclusion - Keeping insects and rodents outside of your facility, in turn, reduces or eliminates the need for product application.

Harbor Reduction - The elimination of as many resting and nesting spots in and around your facility will help deter pests.

Mechanical Controls - Examples include multi-rodent catch traps and insect light traps.

Environmental Controls - We will identify conditions that, if corrected, will work to reduce pest problems.

Product Application - If needed, our professionals will take their time choosing the right product to use in your facility to help control pests.

Documentation Services - We always provide detailed documentation of pest activity, conducive conditions, and product application.
Contact us today to learn more about Action's highly effective commercial pest control services for your Bloomington, IN business!
How Mosquito Control In Bloomington, IN Works
Mosquitoes are problematic pests who show up each spring and stick around until the fall. Mosquitoes bite, create itchy welts and can spread disease. What is there to love about mosquitoes, you may be asking yourself? The answer is, basically nothing which is why the professionals at Action Pest Control have developed a highly effective mosquito control program to greatly reduce their numbers on your Bloomington property throughout their entire active season. Our mosquito control services include an inspection by one of our professionals to find local mosquito breeding and resting areas on your property. We then provide treatment using EPA-approved mosquito control products to reduce the number of incoming mosquitoes and prevent mosquito larvae from hatching into more breeding adults. With our help, you will once again be able to enjoy your Bloomington backyard!

Schedule Your

Free Inspection

Complete the form below to schedule your no obligation inspection.