Effective Pest Control In Richmond, Kentucky
The city of Richmond, Kentucky, is located in the heart of the Bluegrass State. It is fast-growing and provides its residents with small-town warmth and the benefits of big-city amenities. Another benefit of living in Richmond is access to exceptional pest control through the professionals at Action Pest Control. Our company provides the trusted and modern pest control services needed to maintain a pest-free home or business throughout the entire year. To learn more about working together to protect your Madison County property from pests, give Action Pest Control a call.
Residential Pest Control In Richmond, KY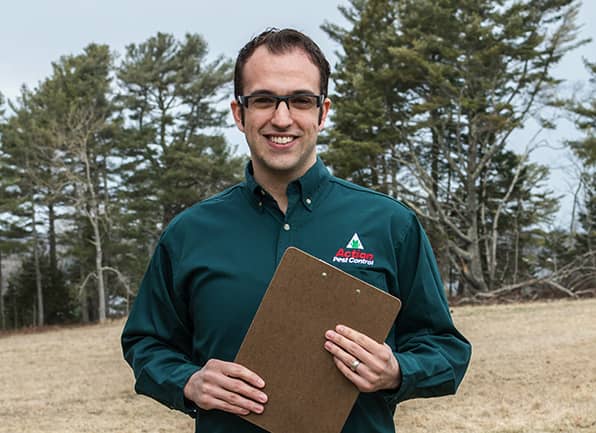 To protect your Richmond home from the year-round threat of pest invasions, partner with Action Pest Control. Put one of our fully guaranteed pest control programs in place right away:
Essential pest control is our basic service. This service provides customers with exterior pest defense services along with cobweb removal.

The Advanced program provides customers with both exterior pest defense and interior pest treatments.

Our Complete pest control program provides exterior and interior pest treatments, an annual attic inspection, termite monitoring services, and a termite inspection.
Our year-round pest control programs provide homeowners with protection against common household pests. Action's residential pest control programs are based on effective pest management solutions provided at your convenience. Give us a call today to see which plan works best for your property and needs.
Learn How To Minimize Mosquito Exposure In Richmond, KY
Mosquitoes are impossible pests to eliminate from your Kentucky property completely.
There are some things you can do to make your property unappealing to biting mosquitoes:
Reduce areas of standing water.

Store containers that can collect water upside down when not in use.

Keep gutters clear.

Shake off the water that collects on tarps and trash can lids.

Remove excess flowering plants - both male and female mosquitoes feed on plant nectar.

Trim tall grasses and overgrown, dense shrubbery.

Make sure that all window and door screens are completely intact.
The professionals at Action Pest Control want to help you protect your family and minimize exposure to mosquitoes by offering effective mosquito control. Our mosquito control program begins with an inspection of your property. Our professionals will locate mosquito breeding and resting areas and then provide treatment using EPA-approved mosquito control products. Get in touch with Action Pest Control to learn more about reducing mosquito numbers on your Richmond property.
Commercial Pest Control In Richmond, KY
Action Pest Control provides the commercial pest control services needed to protect a wide variety of commercial facilities from pests, including:
Restaurants

Hospitals

Multi-housing units

Food processing facilities

Pharmaceutical firms
To protect commercial properties from pests, our highly trained and experienced professionals will:
Perform a thorough inspection to identify the species of pest(s) present accurately.

Determine where pests are living.

Identify conditions that may be attracting pests.
With the help of monitoring stations, mechanical controls, and environmental controls, we will protect your Richmond business and its reputation from invasive, damaging, and dangerous pests. To learn more about our industry-leading commercial pest control solutions, contact Action Pest Control today.
Tips To Avoid Termite Problems In Richmond, KY
We have developed our Five-Step Termite Control System to protect Richmond properties from the year-round threat of wood-destroying termites. It provides:
A comprehensive inspection.

Treatment with Termidor®.

A 3-month re-inspection to make sure the infestation has been eliminated.

An annual termite inspection.

A money-back guarantee and damage warranty.
In addition to implementing our professional termite control services, the following tips can help you to avoid future problems with termites on your Richmond property:
Make sure gutters are clog-free.

Install weather stripping to prevent water from seeping in around windows and doors.

Repair leaky faucets and pipes.

Use dehumidifiers in basements and make sure crawl spaces are properly ventilated.

Keep mulch at least two feet from your foundation.

Store firewood at least twenty feet from your home.

Keep your yard free of debris, fallen trees, and tree stumps.

Schedule Your

Free Inspection

Complete the form below to schedule your no obligation inspection.