Effective Pest Control In Owensville, Indiana
Owensville, a Southwest Indiana town, offers a delightful four-season climate and the perfect mix of rural, suburban, and industrial life for its residents to flourish. To keep the many pests that also, unfortunately, reside in Owensville and thrive year-round inside homes and businesses, Action Pest Control offers industry-leading pest control solutions. Whether you own a farm, home, or small business in Owensville, Action can protect it from being damaged by pests. Trust our company to provide the modern pest control services needed to maintain a pest-free environment throughout the entire year. Contact Action Pest Control today to learn more about working together to protect your Owensville property from pests.
Residential Pest Control In Owensville, IN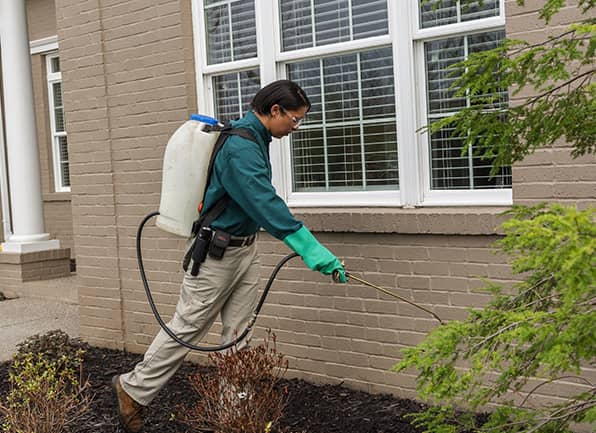 Action Pest Control offers three different year-round home pest control programs for our homeowners to choose from to ensure that you and your family are safe from pests no matter what season it is.
Our quality residential pest control program options include:
Essential - This program provides customers with exterior pest defense services along with cobweb removal.

Advanced - This program provides customers with exterior pest defense and interior pest treatments.

Complete - This program provides both exterior and interior pest treatments, and termite monitoring.
Contact us today to begin protecting your Owensville home from the year-round threat of pests in Indiana.
Learn How To Avoid Termite Damage In Owensville, IN
To protect your Owensville home from termites, partner with the Indiana termite control experts at Action Pest Control. Termites are a highly damaging pest that, if not completely eliminated, can cause extensive structural damage that is very expensive to repair. To protect Owensville properties from wood-destroying termites, we have developed our Five-Step Termite Control System. It includes:
An interior and exterior comprehensive termite inspection of your home.

Treatment for termites using the highly effective Termidor® which eliminates termites through both ingestion and contact.

A three-month termite-elimination inspection to make sure the infestation has been completely eliminated.

An annual termite inspection to ensure your home has remained termite-free.

A money-back guarantee and damage warranty.
Leave getting rid of destructive termites up to Action. Call us today to schedule a termite inspection for your Owensville, IN property!
Protect Your Owensville, IN Family From Mosquitoes
To protect your family and friends from being bitten by mosquitoes on your Owensville property, the professionals at Action Pest Control have worked hard to develop effective mosquito control programs. Our mosquito control program begins with an inspection of your property where mosquito breeding and resting sites are located. Then treatment is completed to reduce mosquito numbers using EPA-approved mosquito control products. These highly effective products reduce the number of mosquitoes coming onto your property and prevent mosquito larvae from being able to hatch into new adults, greatly reducing their numbers. Our mosquito control services include:
A seasonal, monthly service running from April through October to provide continuous protection against mosquitoes on your property throughout their entire active season.

A one-time service to treat an outdoor space before a large party or other outdoor event.

A community-wide abatement service to protect entire communities/neighborhoods from the dangerous side effects of large mosquito populations.
Would You Know How To Spot A Bed Bugs Infestation In Owensville, IN?
If you are finding the following things inside your Owensville home, it most likely means that bed bugs have found their way in and that you need professional services to eliminate them quickly and completely. Signs of a bed bug infestation consist of:
Droplets of blood on linens, mattresses, and box springs; these blood spots are left behind as the bed bugs feed or if they become squished.

Black flecks (bed bug excrement) on linens, mattresses, box springs, or in drawers or closets.

Piles of molted skins under pillows, mattresses and box springs or along the floor.

A musty smell inside rooms that are otherwise clean and mildew free.

Apple seed-sized and shaped bugs with six legs that are reddish-brown in color, hiding out in the seams of mattresses, box springs, and upholstered furniture, in the cracks of walls and wooden furniture, and in places like drawers, closets or under piles of dirty laundry, or in electrical outlets.
To eliminate bed bugs that have found their way into your Owensville home, reach out to Action Pest Control as soon as you notice their signs. Our experts will quickly come to your property to complete an accurate bed bug inspection with the help of our specially trained bed bug dog detection teams. If during the inspection, bed bugs are discovered, we can completely eliminate the infestation through our non-toxic and highly effective heat remediation services. Contact us today to learn more!

Schedule Your

Free Inspection

Complete the form below to schedule your no obligation inspection.