Effective Pest Control In Flat Rock, Illinois
Flat Rock may be small, but our pride for our community is as big as it comes. We're an all-American town that takes care of our own and puts family first. Though there may be fewer than 500 residents in Flat Rock, IL, we do our best to make our town great and keep our residents safe and protected.
Action Pest Control shares those same Flat Rock values. Recognized as one of the top 100 pest control companies in the United States, our award-winning service delivers safe, effective service to thousands of homes and businesses in the Midwest. With multiple pest control plans available to suit any budget, our mission is to provide you with the best treatment from the most trustworthy technicians.
We offer solutions for common pest problems with comprehensive plans for your entire Flat Rock property and targeted solutions for termites, bed bugs, rodents, and ants.
If you're experiencing pest problems in Flat Rock, IL, get in touch with us today. We will give you a free estimate and schedule service at your convenience.
Home Pest Control In Flat Rock, IL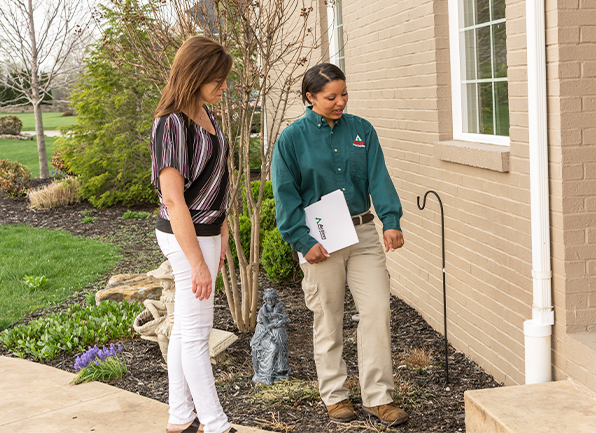 Action Pest Control aims to provide the best service possible to protect you and your family in Flat Rock. When you work with us, you can count on timely service with powerful results.
Why Choose Action Pest Control?
We are dedicated to providing a complete range of services to our customers. We treat your entire Flat Rock, IL property, inside and out, for all common pests and work with you to decide which treatment options are best.
With specialized treatments available for termites, bed bugs, rodents, and ants, we can target the most stubborn infestations without the commitment of a comprehensive home pest control plan.
We offer three options for our home pest control plans:
Complete Plan – The best protection for our customers. This plan includes protection from over 40 pests. The plan consists of treatment, termite inspection, monitoring, warranty, pest-proofing, and scheduled follow-up visits, all with our service guarantee.

Advanced Plan – This plan covers the most common household pests. We will diligently inspect your property for signs of infestation and treat both the interior and exterior of your home to eliminate problem pests, as well as cobweb removal and rodent control.

Essential Plan - This plan provides the basic pest control coverage that every homeowner needs and includes exterior pest defense and cobweb removal.
To schedule service for your home in Flat Rock, get in touch with the experts at Action Pest Control today.
Commercial Pest Control In Flat Rock, IL
Even in small towns like Flat Rock, pest problems can destroy a business. Your good name suffers when customers learn you have pests, and your employees and customers are at risk of catching harmful diseases. Our licensed technicians use only the most cutting-edge pest control techniques and equipment in our commercial pest control plans. For pests, both indoors and outdoors, our Integrated Pest Management approach will eliminate your pests so you can get back to work.
Why should you choose Action Pest Control?
We will thoroughly inspect your facility for sanitation issues, harborage areas, and entry points and will work with you to provide the best course for correcting any problems.

We will treat your facility with various techniques, including chemical applications, mechanical controls (or traps), and environmental controls to prevent pests from entering your business.

We will install pest monitoring services to track pest activity and provide you with proper documentation for your records.
If you're experiencing pest problems in your Flat Rock business, get in touch with us today!
Four Things Everyone In Flat Rock, IL Ought To Know About Bed Bugs
Bed bugs are a more common problem than you might think. Thousands of Americans suffer from bed bug infestations every year, and these parasites can drastically reduce your quality of life. To help protect you and your family from bed bugs, here are four things you ought to know:
1. Bed bugs don't just live in your bed. If you have a bed bug infestation, it can soon spread to your entire home if left untreated. Upholstered furniture, curtains, and even household appliances can harbor bed bugs.
2. Bed bugs hide in secondhand furniture and appliances. These small parasites can go for months without feeding and patiently wait for a new host to pick them up. Used furniture is a common way bed bugs get into your home, and you should inspect it thoroughly.
3. Bed bugs can be hard to identify. If you find a small bug in your sheets, it might not be a bed bug. Red spots on sheets, bites on the arms and face, and shredded skin or eggs in your bed are usually reliable signs of bed bugs.
4. Bed bugs like to hitchhike. Keep your bags and belongings off the floor when staying in hotels, and avoid sharing space at the laundromat. Bed bugs will latch onto clothing and hitch a ride into your home.
Action Pest Control has targeted bed bug control treatments available for homes and businesses. If you're suffering from bed bugs, don't wait another minute. Call us today for the help you need.
Do You Know How To Prevent Termite Damage In Flat Rock, IL?
You work hard to maintain your property in Flat Rock. Why should you let some freeloading insects ruin all that? Termites are the most destructive pests around, costing U.S. property owners billions in repairs every year. That's why it's important to prevent a termite infestation before it starts.
Here's how you can do it:
Reduce moisture around the exterior of your property. Make sure that all drainage and gutters are clear and working correctly.

Install a dehumidifier in your basement to control moisture levels inside your property.

Keep an eye out for signs of a developing colony, such as swarms of flying termites and termite tubes running along the foundation of your home or business.

Clear away yard waste like grass clippings, dead leaves, and rotting wood or branches.
But the most critical step you can take to protect your Flat Rock, IL property from termite damage is to contact the professionals at Action Pest Control. Many property owners don't realize they have a termite problem until it's too late.
With our targeted treatment using Termidor®, we will eliminate termite colonies at the source, guaranteed. Don't believe us? We offer a money-back guarantee and a damage warranty of up to $250,000. If you're experiencing termite trouble in Flat Rock or suspect that you may have an infestation, get in touch with the experts at Action Pest Control today for effective termite control services.

Schedule Your

Free Inspection

Complete the form below to schedule your no obligation inspection.