Effective Pest Control Services In Bridgeport, Illinois
Protect your Bridgeport, Illinois, family, home, and business from common pests by partnering with the local pest control experts at Action Pest Control. Action Pest Control has one mission - to provide customers with effective pest control solutions in a timely and affordable manner. Action Pest Control's team is ready to work with you to eliminate insects and other pests from your Bridgeport property and keep them from returning. Trust that Action Pest Control has the experience, training, and industry-leading solutions to help keep your Bridgeport residential or commercial property free of insects, rodents, and other pests long into the future.
Residential Pest Control In Bridgeport, IL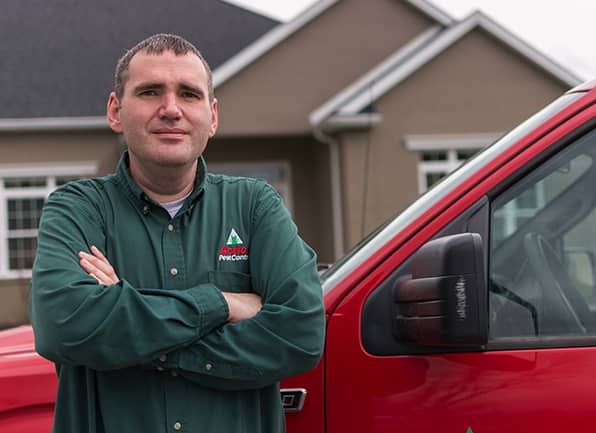 One of the best benefits of choosing Action Pest Control to take care of your Bridgeport home's pest control needs is that you know the job is completely and correctly done, and pests are eliminated from your home, and they will not return.
At Action, we offer four different year-round home pest control services. Our knowledgeable and highly-trained professionals complete all services.
Our year-round pest solutions include:
Essential pest control is our basic service. This service provides customers with exterior pest defense services along with cobweb removal.

The Advanced program provides customers with both exterior pest defense and interior pest treatments.

Our Complete pest control program provides exterior and interior pest treatments, an annual attic inspection, termite monitoring services, and a termite inspection.
To learn more about protecting your Bridgeport, Illinois, property, give Action Pest Control a call. We protect your home from the many local pests that can find their way inside.
Guide To Keeping Rodents Out Of Your Bridgeport, IL Home
The professionals at Action Pest Control dedicate themselves to helping you keep rodents out of your home. Through the implementation of our rodent control solutions, this becomes an easy task. Putting a professional rodent control solution in place is the best way to protect your home from the problems rodents can cause.
Some of the problems rodents create:
Contaminating food.

Introducing diseases.

Damaging your home's structure.

Causing fires and water damage by chewing through wires and pipes.
With our highly effective rodent control solutions, you will receive:
A thorough inspection completed by one of our professionals.

The implementation of bi-monthly or quarterly treatments.

Tailored treatment protocols.
Our professionals perform follow-up inspections to ensure that the elimination process was successful. They will complete minor exclusion (pest-proofing) as permitted by the homeowner to eliminate pest entry points and other things that may be attracting pests to your property. Our rodent control services can be completed as a stand-alone service or as part of our year-round residential pest control programs. Give us a call to learn more!
Commercial Pest Control In Bridgeport, IL
At Action Pest Control, our supervisors, managers, and entomologists work together to provide you with the commercial pest control services needed to:
Eradicate your commercial property's current pest problems.

Create an environment that is unattractive to pests.

Provide the continuous services needed to protect your business from future issues with reputation-damaging pests.
We customize and complete modern pest control solutions through our 10-step preventative pest management program, which include:
Inspection

Monitoring

Identification

Sanitation

Exclusion

Harborage Reduction

Mechanical Controls (traps)

Environmental Controls

Product Application

Documentation
Give us a call to learn more about protecting your Bridgeport business with the help of the commercial pest control experts at Action Pest Control.
Tips For Avoiding Bed Bugs In Bridgeport, IL
One of the best ways to avoid bed bugs is to know the common signs of an infestation. The signs allow you to remove yourself and your belongings from an environment infested with bed bugs as quickly as possible.
Common signs of a bed bug infestation include:
Finding live or dead bed bugs.

Discovering dark streaks of excrement, or spots of blood, on mattresses, box springs, upholstered furniture, and floors; inside drawers and closets; or underneath piles of dirty laundry.
Ways to avoid a large scale bed bug infestation in your home:
Avoid placing bags, luggage, coats, and other personal items on the floor of any public environment.

Never purchase used furniture, mattresses, or box springs for use in your home.

Routinely vacuum your home's floors, mattresses, and upholstered furniture.

Regularly wash and dry clothing, outerwear, and bedding in a high-heat setting.
Contact the professionals at Action Pest Control at the first sign of a problem with bed bugs inside your Bridgeport home. To learn more about our fast and effective solutions to any size bed bug infestation, reach out to the Illinois bed bug experts at Action Pest Control!

Schedule Your

Free Inspection

Complete the form below to schedule your no obligation inspection.