Effective Pest Control In Bramble, IN
Located in rural Indiana, Bramble is a farming community in Martin County. As an unincorporated community, it can be challenging to track down companies that serve our area. But where pest problems are concerned, you've got a local resource in Action Pest Control. We serve the surrounding areas of Perry Township and specialize in communities that the larger companies often overlook. Learn how we can help you avoid infestations in the first place and quickly clamp down on invasions when they happen.
Home Pest Control In Bramble, IN
Most people aren't aware that pest control requires a comprehensive approach. You can't just deal with pests once they are already a noticeable problem, and you need to address the places that pests come from, not just where they are currently. This is why pest control experts can help you fully account for every aspect of protecting your property from insects, rodents, and all manner of invasive species. Here's how Action Pest Control can cover your entire property with our designated service packages:
Essential: This service covers your exterior, from your yard's perimeter to your home's foundation. Pest populations often form outdoors before migrating inside, so proper exterior pest control is important.

Advanced: This package covers both your exterior and interior, for when pests are already a concern or when you want to make sure to have an extra layer of protection against pests.

Complete: Our complete service offers all the protection of our advanced package and includes extra monitoring, like a termite monitoring service that protects your home against the most damaging kinds of pests.
For comprehensive pest control, you can rely on, turn to Action Pest Control today.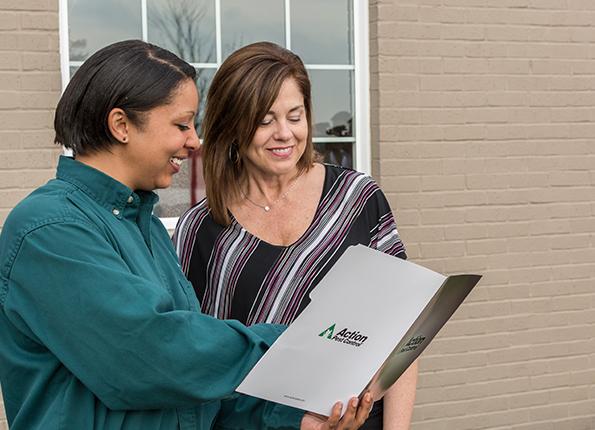 Commercial Pest Control In Bramble, IN
It's not just homes that benefit from top-to-bottom pest control, businesses can, too. In fact, pest problems can be even more costly for commercial property owners because the damage they cause can hurt your bottom line and the health threats they pose can be dangerous to your employees and customer base. That's why professional pest control is such an important part of maintaining a healthy business. At Action Pest Control, we offer all of these services to help keep your Bramble business booming:
Inspection & Monitoring: The best way to make sure pests aren't an issue is to monitor their activity before it grows into a problem. Professionals can inspect your property thoroughly and offer top-of-the-line monitoring devices that ensure pests never sneak up on you.

Non-Application: This category covers our exclusion practices -- the kinds of treatments designed to keep pests off of your property in the first place and that don't require sprays.

Application Treatments: Then there are the solutions we directly apply to the source of the problem or as a way to ward off future pests. This includes safe chemical treatments and machine applications that address specific kinds of pests.
This complete approach to pest control is the best way to ensure your business never suffers the larger costs of a pest infestation. Contact Action Pest Control to get started today.
Best Ways To Avoid Boxelder Bugs In Bramble
Boxelder bugs, often mistaken for stink bugs because of their similar round and beetle-like shape, are a common pest for Bramble property owners. While they are primarily garden pests that will eat up your decorative plants and garden veggies, boxelder bugs can and will get inside of homes and businesses, too. Especially as colder weather sets in, outdoor pests look for ways to get indoors where it's warmer. That's why you have to take steps to defend against infestations before you even notice the signs of pest activity. Here are some of the best ways to accomplish this:
Landscaping: Having an overgrown lawn and non-maintained yard plants makes your property more attractive to pests that want plenty of areas to hide and nest. For flying pests like boxelder bugs, extra green space means more areas to land and rest or feed.

Crack Sealing: Small bugs can slip in through tiny cracks, which is why it pays to routinely check your structure's exterior for signs of needed repairs.

Treatments: The most effective way to keep pests out of your yard and out of your home or business is to get professional treatments.
For help preventing boxelder bugs and other invasive pests, contact Action Pest Control.
Why Bramble Homeowners Shouldn't Use DIY Bed Bug Control Methods
When it comes to pests like bed bugs, you really can't trust store products or home-brewed solutions. These biting parasites are harmful to your health, so you need to go with the methods that will eliminate the entire problem. Most products don't account for the bed bug eggs that might hide elsewhere on your property, and even effective methods can be ineffective when used by untrained hands. That's why you should turn to professional treatments right away.
At Action Pest Control, we can quickly and completely remove bed bugs from your Bramble home. But you may be wondering why you should even worry about bed bugs when you may never have had them in your home. Even clean properties can wind up with these tiny, biting invaders because they are often carried inside by clinging to hair, skin, and clothing. Just visiting a bed bug hotspot elsewhere, or innocently bringing some used item into your home, can lead to an infestation. This is why you need to clamp down quickly on them if bed bugs happen to you. The best way to do that is with the solutions from Action Pest Control. Contact us today to learn more.

Schedule Your

Free Inspection

Complete the form below to schedule your no obligation inspection.