Reliable Pest Control In Annapolis, IL
Located along the border between Illinois and Indiana, Annapolis is a small, primarily residential community that has some local businesses scattered throughout. Given the town's rural setting and access to campgrounds, there is always something outdoorsy to do. But due to the seasonal nature of Annapolis, there are also opportunities for pests to come in and invade your property.
At Action Pest Control, we're the company that you can trust to help you in these situations. All of our treatments are backed by on-staff entomologists and we always strive to offer superior communication with our customers. To schedule your free, no-obligation consultation, contact us today.
Residential Pest Control In Annapolis, IL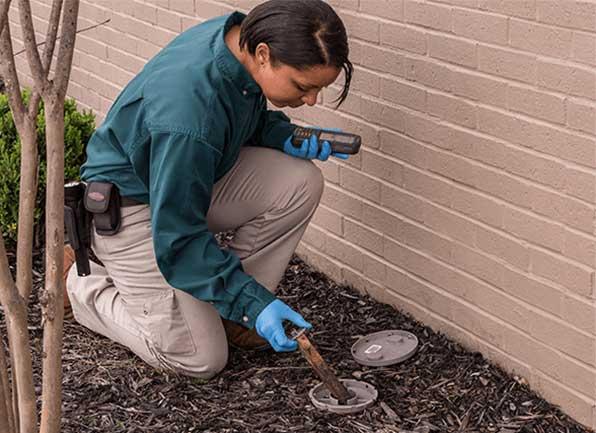 Keeping your Annapolis home and everyone inside of it safe is your top priority, and that means keeping pests out. But when the process can feel overwhelming, who can you call? Action Pest Control is ready to take action! We provide homeowners with pest control solutions that they can trust. With our entomologist-backed treatments, we offer three key plans to keep your home pest-free all year long:
Complete. If protecting your home means taking no chances, here is your plan. The complete plan includes termite monitoring and inspection, rodent control, an annual attic inspection, unlimited service calls, and our year-round pest-free guarantee.
Advanced. When you want a less comprehensive treatment solution, this is the plan to pick. It includes exterior defense, interior treatments, guaranteed services, rodent control, and unlimited service calls.
Essential. For the homeowner who is looking to dip their toe in pest control but still wants year-round protection, this starter plan is a great fit. This program is geared at preventative measures between March and October, and aims to keep out common pests like centipedes, spiders, and ants.
Don't let pests become a problem when they don't have to be. At Action Pest Control, we have a plan to fit every budget and every need. To schedule your free, no-obligation inspection and to learn more about how we can keep pests off of your property, contact us today.
Commercial Pest Control In Annapolis, IL
At Action Pest Control, it's our mission to fully protect your Annapolis business property from pests by making it as unattractive to them as possible. We're able to accomplish this through our exclusive 10-step process, which includes:
Inspection. We get started by using Integrated Pest Management (IPM) protocols to understand why an infestation is occurring or how one could develop.
Identification. Though determining which pest is plaguing you might seem like an easy task, many times the signs of one species can be mistaken for another. That's why we believe in a thorough investigation into exactly what your invaders are.
Exclusion. By focusing on keeping pests out of the interior of your property, we can apply minimal chemicals, which is a cornerstone of IPM methods. The type of exclusion used will be determined by the pests at hand.
Mechanical controls. If necessary, we will strategically use traps to capture and hold pests.
Product application. Because we believe in IPM and follow its methods strictly, we look to apply chemicals as a last resort. This way, we can ensure that our services are minimally invasive and bothersome to your staff and customers.
Monitoring. To know how our treatments are working, we carefully watch the process take place and adapt our plan accordingly.
Sanitation. When certain pests invade your business, they leave behind a big problem when it comes to cleanliness and safety. Our team will inspect any sanitation issues and make the proper suggestions to remedy them.
Harborage reduction. Many times, pests either hide in yard debris or use it as a bridge for entry to your property. Our technicians will assess the exterior of your property and make the necessary suggestions.
Environmental controls. This is where we tinker with some of the external factors because something as seemingly simple as moving rocks around can be enough to deter pests.
Documentation. We believe that information is power, which is why we always document our findings thoroughly and make them accessible to our customers via our online portal.
Take advantage of our unparalleled customer support, flexible scheduling, and entomologist-backed treatments. For more information on how we can customize a pest control solution plan to your specific needs, contact us today.
What Everyone In Annapolis Ought To Know About Black Widow Spiders
Black widow spiders are the main reason why so many people fear spiders in general. Here are a few things Annapolis residents ought to know about them:
Black widow spiders have a glossy black exterior and the female is always stamped with the iconic red hourglass shape.

Their bites are venomous and they will attack when they feel threatened.

You can generally find them in dark areas that are secluded. This includes garages, basements, parts of cluttered areas, woodpiles, and closets.

The black widow feeds off of other pests like cockroaches, ants, and grasshoppers, so if you have the presence of these spiders, you probably have an infestation of another kind.
For more information on protecting yourself from black widow spiders, contact Action Pest Control today.
When Are Mosquitoes Most Active In Annapolis, IL?
With their ability to leave you itching, mosquitoes can be one of the most annoying pests you have to deal with. But according to the World Health Organization, they're always one of the most deadly due to the diseases and viruses that they spread. In order to avoid them, you should know that mosquitoes are most active in Annapolis between the months of April and October. Additionally, mosquitoes are primarily out and about during dusk and dawn. For more information on limiting your exposure to mosquitoes and how you can keep them off of your property, contact Action Pest Control today.

Schedule Your

Free Inspection

Complete the form below to schedule your no obligation inspection.