Contact Action For Help Getting Rid Of Brown Recluse Spiders
Brown recluse spiders tend to strike fear in the hearts of people because of their bites. Though some brown recluse spiders bites may go unnoticed, other than a little redness, others can cause severe skin deterioration due to the venom's necrotic properties. At Action Pest Control, we understand the apprehension property owners experience when they encounter brown recluse spiders in their homes, and we're ready to help!
Brown Recluse Spider Extermination
Our pest professionals are qualified to help to provide state-of-the-art brown recluse treatment programs. Our staff is trained on the biology, behavior and the most advanced control techniques to manage these dangerous spiders. Our services include:
Inspection
We systematically inspect your home- from the attic to the foundation to evaluate if brown recluse are present. The recluse spiders common to IN, KY, and IL are known for the fiddle-shaped marking on their backs. We'll also discreetly place monitors throughout the home to determine activity levels.
Treatment
Action will implement proven brown recluse spider treatment techniques including prescriptive products carefully applied to hard to reach areas where these cryptic spiders are prone to develop. In some situations, Action may recommend fumigation services to exterminate brown recluse.
Because brown recluse can live up to 10 months without food, ongoing pest control services provide the best protection against brown recluse spiders and other household pests that they may prey on. Though most home pest control programs do not cover brown recluse, Action offers special versions of our Complete and Premier plans that do include treatment for these venomous arachnids.
Brown recluse spiders are very prevalent in southern IN, KY and IL so if you think you may have a brown recluse spider problem in your home, you can count on Action to take care of these dangerous spiders.
If you're looking for a home pest control plan that guards against common insects and rodents and that offers superior protection against destructive termites and termite damage, you've come to the right place. Our Premier home pest control program addresses infestations of ants, spiders and other house-infesting insects but that's not all. When you sign up for this program, you'll enjoy all the benefits of the Complete pest control program plus additional termite control services and termite warranties.
What Does Premier Home Pest Control Include?
When one of our trusted pest control specialists arrives at your home, here's what you can expect:
A thorough inspection of your home and property to determine if pests are present, and if so, identify what types of insects and rodents are infesting the house. The locations of the pests will also be noted, as will any conditions that are attracting and/or sustaining them.

Any necessary treatment(s) to get rid of existing pest activity. Depending on the time of year, this may include treating potential entry points on the exterior; residual barrier application to the exterior perimeter, as well as landscaping; nearby tree bases, driveways, and other areas close to the house; treatment of crawlspaces and attached garage interior if applicable or accessible; and much more!

Exterior cobweb removal

Window sill vacuuming

Placement of exterior rodent station(s)

Pest proofing to eliminate potential entry points as needed

Termite treatment with Termidor® or Sentricon®

Termite warranty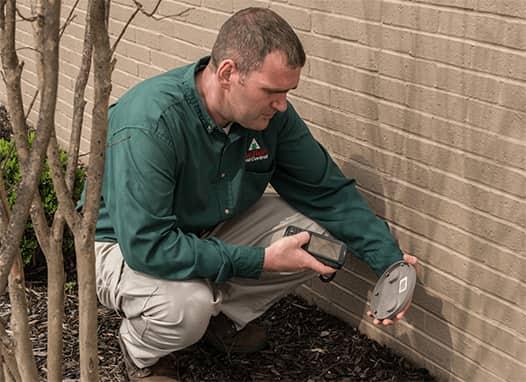 Pests Covered In This Program
Ants, Spiders, Subterranean Termites, Cockroaches, Mice, Black Widow Spiders, Brown Recluse Spiders, Stink Bugs, Box Elder Bugs, Rats, Silverfish, Earwigs, Fleas, Ticks, Crickets, Carpet Beetles, Clover Mites, Ground Beetles, Ladybugs, Centipedes, Millipedes, Yellow Jackets & Wasps, Hornets, Carpenter Bees, Carpenter Ants, Fruit Flies, House Flies, Fungus Gnats, Cigarette Beetles, Red Flour Beetles, Drugstore Beetles, Indian Meal Moths, Clothes Moths, and Springtails
The Premier Home Pest Control Program also includes follow up services to treat the inside and outside of your home, depending on the pest problem; an annual termite inspection, an annual attic inspection, fully guaranteed services and, of course, simple scheduling. Should you have pest problems between your regularly scheduled services, we'll come out to address the issues free of charge. With this program, we also offer discounts on other pest control services!
I'M INTERESTED! OR CALL (877) 420-0849

Schedule Your

Free Inspection

Complete the form below to schedule your no obligation inspection.