Action Pest Control Promotes Jesse Blessinger
August 15, 2011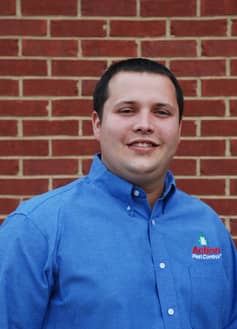 Jesse Blessinger is promoted to Branch Manager
Jasper, IN. – August 15, 2011– Kevin C. Pass, President and CEO of Action Pest Control, has announced that Jesse Blessinger has been promoted to branch manager of Action Pest Control's Jasper location. Blessinger was previously employed as a service manager with the company.
"Jesse has proven to be a valuable asset to the future growth of Action Pest Control as well as the communities he serves. We're glad to have him on our team," said Pass.
Blessinger previously served as a service manager with Blessinger's Exterm-It-All before they merged with Action Pest Control in 2010. He also served as a Combat Field Medic in Iraq and now lives in Ferdinand with his wife Carrie and their two small children.
< Previous
Next >