Effective Pest Control In Portersville, Indiana
One of the most enjoyable things about living in Portersville is the number of parks in the surrounding area. But with all the green space around us, we have a range of diverse insects and animals, which can sometimes become a problem in our yards, homes, and businesses.
You can keep pests away by working with Action Pest Control for effective Dubois County pest control. Our goal is to provide quality residential and commercial pest control services. Read on for information on our services and how we can help you become pest-free.
Home Pest Control In Portersville, IN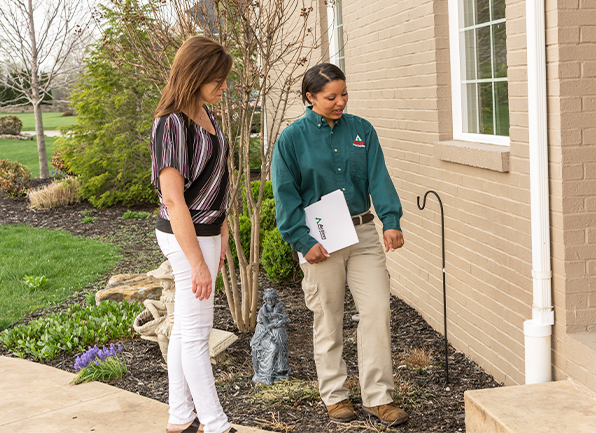 Keeping pests out of your home can be a challenge, but it doesn't have to be when you work with pest control experts like our team at Action Pest Control. We offer two different residential programs depending on your home pest control needs. These programs provide coverage for the most common home-invading pests like ants, spiders, cockroaches, rodents, beetles, and more, and consist of:
Advanced Pest Control Program:
Quarterly interior and exterior services
Cobweb removal
Interior- windowsill vacuuming, rodent control, and other treatments
Exterior- rodent stations, pest-proofing as needed, and other pest defense methods
Complete Pest & Termite Control Program:
Bi-monthly exterior, interior, and termite monitoring services, including everything in the Advanced Pest Control Program
An annual inspection
Termite inspection and monitoring
With both of these programs, you will receive unlimited service calls and have our full guarantee. For more information about our residential services, call Action Pest Control, and don't forget to ask about our free inspection!
Commercial Pest Control In Portersville, IN
Business today is a complex and complicated undertaking, and many issues can interrupt day-to-day operations. The last thing you need is pest activity damaging your business reputation, which will affect employees and your customer base.
Call us at Action Pest Control; the best way to protect your business is with our services using Integrated Pest Management (IPM). Our process is as follows:
Inspection: We conduct a thorough review of your property to identify the types of pest issues you are experiencing, the location of active pests, and conducive conditions that can lead to more pest problems.
Identification: Before implementing any treatments, we will identify the specific species you are experiencing to ensure we utilize the best methods.
Exclusion: We perform minor pest-proofing to keep rodents out, with large pest exclusions projects available.
Mechanical Control: We will strategically place traps based on your facility's needs.
Product Application: We only use necessary products and always ensure the application of the correct one for the pest problem.
Monitoring: We keep an eye on the pest activity on your property by monitoring glue boards, mechanical traps, insect light traps, pheromone traps, rodent bait, and stations.
Sanitation: We will provide recommendations on correcting sanitation problems to help reduce the need for product application.
Harborage Reduction: We will identify active and potential harborage areas and recommend the best solution.
Environmental Controls: We will identify conditions that provide a conducive environment for pests and correct them.
Documentation: We understand the importance of documenting the services provided on a commercial property.
Contact us at Action Pest Control to learn more about our commercial pest control services!
What Portersville Property Owners Ought To Know About Boxelder Bugs
Boxelder bugs are true bugs, unlike many other insects with "bug" in their name. They have three pairs of legs, two pairs of wings, and straw-like mouthparts made for sucking juices from plants. Here is what you need to know about these pests:
They feed the young branches, leaves, and flowers of plants, which doesn't inflict damage.
They are attracted to warm and sunny areas, so you may see them gathering on the side of your home facing the sun.
They can slip through cracks in your home's exterior, making their way inside the walls where they can overwinter.
They are not dangerous to people and only pose harm to plants and trees when many are feeding.
Although boxelder bugs aren't dangerous, you don't want to handle an infestation on your property or inside your home, so ask Action Pest Control what we can do to help you with this pest.
How To Choose A Bed Bug Exterminator In Portersville
Bed bugs are the kind of pest you don't want to waste time eliminating, but unfortunately, this is a common occurrence for many people. Whether they are trying to eliminate bed bugs on their own or put their trust in the wrong people, they end up dealing with this pest much longer than is necessary.
To keep this from happening to you, here is what you should ask for when choosing a bed bug exterminator:
How extensive is the inspection process to identify bed bugs?
Are multiple types of treatments used or available?
Is there a follow-up after the initial treatment?
Is a warranty offered?
At Action Pest Control, our dedication to our customers ensures we meet all needs and expectations, so ask us the above questions, and we'll show you why we are your right choice!

Schedule Your

Free Inspection

Complete the form below to schedule your no obligation inspection.