Trusted Pest Control In Norton, IN
The small rural community of Norton is nestled in the heart of Indiana and provides its residents with a quiet, pastoral life. Hoosier National Forest is a short drive and with cities like French Lick and Jasper not too far away, life's necessities are easily available. But even in a sleepy town like Norton, pest problems abound.

At Action Pest Control, it has always been our mission to provide our customers with timely, trusted Dubois County pest control. All of our technicians are state-certified professionals and thoroughly trained in order to deliver the highest quality of services no matter the occasion. We also have board-certified entomologists on staff so that we're able to offer treatments that take into account every aspect of pest behavior and biology. When you entrust your property to us, you'll also benefit from our superior communications, convenient billing, and emergency services. For more information on the benefits of professional pest control, please call us today.
Residential Pest Control In Norton
The pest problems that can develop in your Norton home can range from pesky mosquitoes during the summer to termite damage throughout the year. At Action Pest Control, we are ready to handle whatever pests come your way. All of our technicians are state-certified and will always be courteous, friendly, and knowledgeable. In order to protect your property from pests, we've created three programs that provide continued service:
Complete: Our most comprehensive pest control program provides bi-monthly visits and extensive protection that includes ticks, fleas, mites, brown recluse spiders, and termites.

Advanced: With quarterly interior and exterior treatments, we're able to increase the amount of coverage we provide, re-service if necessary, and guarantee your satisfaction.
For more information on our residential pest control offerings, contact us today.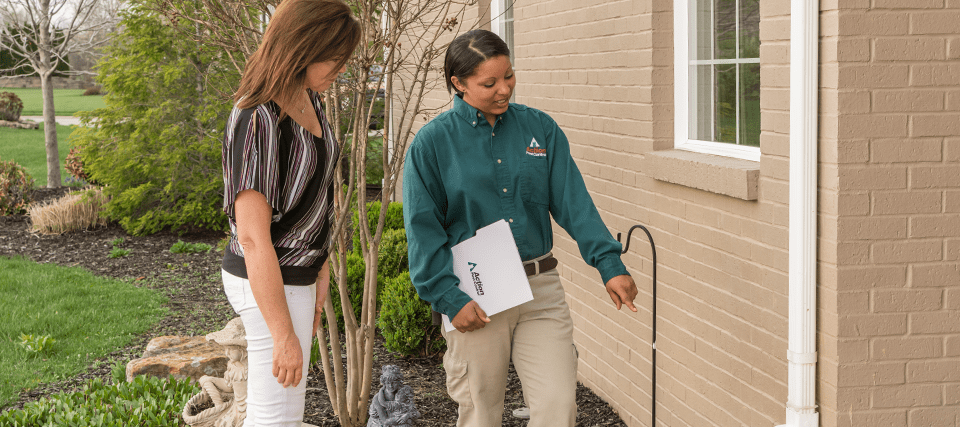 Commercial Pest Control In Norton
A pest problem in your Norton business can be disastrous and at Action Pest Control, we work to make sure that isn't the case. When we partner with you, our main objective is to create an environment that is completely free of pests. We begin with a detailed property inspection so that we can properly identify pests, problem areas, and potential issues. Our treatment methods are all informed by Integrated Pest Management, which means that we will limit the use of chemicals on your property and focus on mechanical controls and exclusion. This combination will work to eliminate immediate issues while also preventing problems in the future. We always document our findings precisely and share these reports with you on a continual basis.

All of our work is customized to your specific needs, compliant with industry regulations, and guaranteed for your satisfaction. To learn more about protecting your property with commercial pest control, contact us today.
Norton's Complete Guide To Effective Black Widow Control
Black widow spiders are some of the most dangerous spiders both in Norton and across the country. Residents can identify them by their glossy black exteriors and iconic red hourglass stamp. The female of the species typically stays in her web and waits for prey to walk by before injecting her venom; however, if she perceives a threat by a human, she will attack. In order to prevent these hazardous scenarios, try the following tips:
Apply caulk to any cracks or crevices in a foundation.

Ensure that all window and door screens are free from tears.

Remove all excess brush and debris from the yard.

Disperse rock piles if possible.

Knock down spider webs both inside and outside of the home.

Check for leaky pipes, faucets, and fixtures routinely and fix any that appear.

Seek professional assistance from a pest control expert.
For more information on reliable black widow spider control, contact Action Pest Control today.
What Smells Do The Mosquitoes In Norton Hate?
The mosquitoes that zip around Norton are most prevalent from late spring through early fall and during this time, they seek out human blood, which is why so many locals find themselves covered in bites. Some of the scents that mosquitoes hate the most and that might deter them to some extent include:
Citronella

Lavender

Catnip

Rosemary

Cedarwood

Lemongrass

Thyme

Peppermint

Eucalyptus

Clove
At Action Pest Control, we provide homeowners and businesses with seasonal treatments for mosquitoes that will drastically reduce their populations. Our process begins with an inspection by one of our licensed pest control technicians, which allows us to understand where these pests are living and breeding. Our most popular program runs between April and October, during which time we apply EPA-approved products to standing water, shrubs, trees, and other landscaping in order to target adults and larvae. We also offer these as one-time services for special occasions. For more information on mosquito control, contact us today.

Schedule Your

Free Inspection

Complete the form below to schedule your no obligation inspection.