Trustworthy Pest Control Solutions In Huntingburg, Indiana

Huntingburg, IN, is a delightful place to visit for the weekend or, even better, a place to put down roots permanently! Huntingburg is "A City Like No Other" and offers tree-lined quiet neighborhoods, a quaint downtown with thriving local businesses, and community events throughout the year to keep everyone connected. Whether you own a home, business, or both in Huntingburg, you can trust the pest control experts at Action Pest Control to keep your residential or commercial property free of insects, rodents, and other critters. Our team is ready to work with you to eliminate any annoying, dangerous, and damaging pests from your property and keep them out year-round. At Action Pest Control, we have the experience, training, and industry-leading solutions needed to eliminate pest issues from any Huntingburg, IN home or business. Give us a call today to learn more about our trustworthy team and trustworthy pest control solutions!
Residential Pest Control Services In Huntingburg, IN
To protect your Huntingburg property from the barrage of pests trying to get inside of your home to gain easy access to food, water, and shelter, the professionals at Action Pest Control have developed three different comprehensive, highly effective pest control programs. The variety of programs that we offer allows our homeowners to choose the exact program that meets their exact needs and budget. If you are looking for a basic, highly affordable year-round pest control program, turn to our Essential pest control program, which provides exterior pest defense services and cobweb removal. For a more inclusive service, choose our Advanced pest control program. It provides our customers with both exterior pest defense and interior pest treatments. It also includes cobweb removal, window sill vacuuming, the placement of exterior rodent stations, rodent control services, as-needed pest proofing, unlimited services calls, and services that are fully guaranteed! For even more pest protection, consider our Complete pest control program. It includes everything found in the above Advanced pest control program and includes an annual attic inspection, termite monitoring services, and a termite inspection. Contact us today to speak with one of our professionals and learn more about which program is right for you and your home!
Tips To Avoid Brown Recluse Spiders In Huntingburg, IN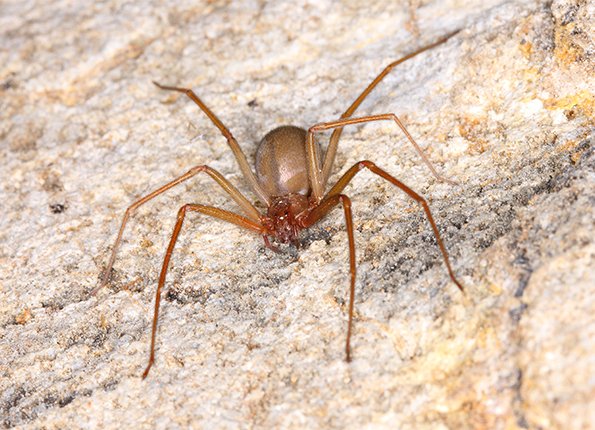 Brown recluse spiders found living outside away from people are assets; they hunt and feed on nuisance insects helping to keep their populations down. But, when these spiders decide to move inside homes, garages, and sheds to live and hunt for food, they can become a problem for people, a big problem! Brown Recluse spiders are dangerous because a bite, while rare, can cause substantial health consequences. The skin around a brown recluse bite ulcerates and can take a very long time to heal, and is prone to infection.
To help avoid these spiders, we first suggest making sure to keep clothing, bedding, and like items up off of the floor. Before putting on clothing and shoes, it is always important to shake them out, hopefully dislodging any brown recluse spiders hiding inside. Keep clutter inside your home, garage, and sheds to a minimum—the more clutter, the more places they have to hide unnoticed. Remove piles of sticks, leaves, logs, and other debris from your property; store wood on pallets located at least 20 feet from your property. When doing yard work or moving boxes and items around outbuildings, always wear work gloves. Ensure that screens placed inside windows and doors are completely intact, chalk any gaps around windows and doors, and that door sweeps are placed underneath all exterior doors to help keep these spiders from gaining access inside your home.
If you are finding brown recluse spiders on your property, contact Action Pest Control immediately. We can successfully eliminate these spiders through our brown recluse spider management program. Give us a call to learn more!
Commercial Pest Control In Huntingburg, IN
Pests aren't just a problem for homeowners. Pests can just as quickly invade and cause problems inside commercial facilities. To help eliminate and control pests in commercial properties, Action Pest Control works closely with business owners to ensure the end goal of a pest-free property. To solve pest problems in your Huntingburg commercial facility, our highly trained and experienced technicians, with the support of our supervisors, managers, and board-certified entomologists, will complete our 10-step preventative pest management program. The 10-steps work together as a team to provide exceptional pest protection for your commercial property. The 10-step commercial pest control program includes:
Inspections

Monitoring

Identification

Sanitation

Exclusion

Harbor Reduction

Mechanical Controls

Environmental Controls

Product Application

Documentation Services
Let's work together to ensure that your commercial property is not a place that pests will want to or be able to enter inside! For more information about our commercial pest control services, get in touch with us today!
Protect Your Huntingburg, IN Property From Termites
Protecting your Huntingburg property from termites is a difficult task. These wood-destroying insects are very elusive. They silently enter your home unnoticed, often causing significant property damage. Action provides its customers with a five-step termite control system to help protect the structure of your home and the integrity of your bank account from highly destructive termites. Our termite control system provides the comprehensive treatment needed to quickly detect a termite infestation and eliminate the entire colony from your home and property. The first step begins with a comprehensive inspection performed by one of our licensed professionals. The second step is a treatment to eliminate the infestation through the use of Termidor®, a highly effective product that gets rid of termites through ingestion and direct contact. The third step is a three-month termite elimination inspection. Our inspectors will return to ensure that the infestation is completely gone; the fourth step is an annual termite inspection to ensure that your home remains termite-free. And finally, the fifth step is our money-back guarantee and damage warranty! Don't let termites take over your property and savings account, turn to Action Pest Control to eliminate termites from your property once and for all!

Schedule Your

Free Inspection

Complete the form below to schedule your no obligation inspection.