Effective Pest Control In Newburgh, Indiana
Newburgh, Indiana, is located along the winding Ohio River. It has the distinction of being the oldest town in Warrick County. Newburgh is a town that is rich in history and offers its residents a thriving community and family-friendly atmosphere that is full of great housing options and excellent schools. To protect your Newburgh home or business from the many insects, rodents, and other pests that have also chosen to take up residence along the Ohio River, turn to the local pest control experts found at Action Pest Control.
Our team is ready to work with you to eliminate and control pests such as ants, spiders, stinging insects, rodents, roaches, and mosquitoes from your Newburgh residential or commercial property and keep them from becoming a problem for you in the future. Get in touch with Action Pest Control today to learn more about how our experience, training, and industry-leading pest-control solutions can solve all of your residential and commercial pest problems.
Residential Pest Control In Newburgh, IN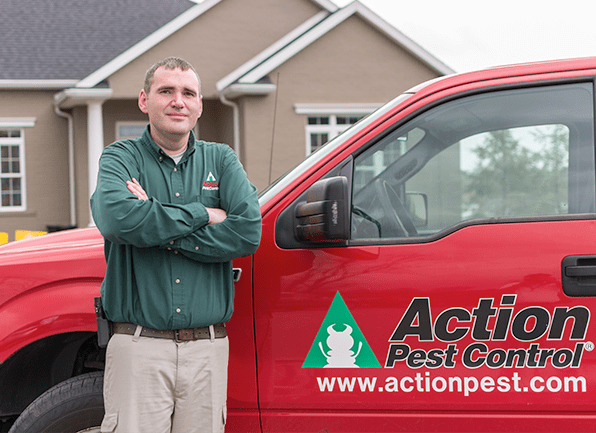 At Action, we offer four different year-round home pest control services for our homeowners to choose from to eliminate current pest problems and prevent future pest problems. Our year-round solutions to pest problems include:
Advanced pest control: The Advanced program provides customers with both exterior pest defense and interior pest treatments.

Complete pest control: The Complete pest control program provides both exterior and interior pest treatments, but it also includes an annual attic inspection, termite monitoring services, and a termite inspection.
For more information about our year-round residential pest control options, give us a call today and speak with one of our friendly experts.
Guide To Rodent Prevention In Newburgh, Indiana
Keeping rats and mice out of our homes and away from our family, belongings, and food is important for many different reasons. The fact is they can cause expensive structural damages, contaminate our food, introduce many diseases and bacteria into our homes, and destroy our personal belongings. Fortunately, preventing problems with mice and rats inside your Newburgh home is as simple as calling Action Pest Control and implementing our rodent control solutions. A simple guide to our rodent control solutions is listed below:
Our professionals will provide a thorough inspection to identify the species of rodent that has invaded your home, where they are living, and the extent of the infestation.

We provide bi-monthly or quarterly treatments. (Exact treatment protocols will vary depending on the exact need of the home and family.)

We perform follow-up inspections to make sure the elimination process was successful.

Minor exclusion (pest-proofing) may be performed (as permitted by the homeowner) to eliminate pest entry points and things that may be attracting them to your property.
Our rodent control services are completed alone or as part of our year-round residential pest control programs to help provide you with a comprehensive solution against household-invading pests. Give us a call today to learn more!
Commercial Pest Control In Newburgh, Indiana
To protect Newburgh, Indiana, commercial properties from invasive pests that can damage buildings, products, and reputations, Action Pest Control employs a 10-step preventative pest management program. Our 10-steps to a pest-free commercial facility include Inspection, monitoring, identification, sanitation, exclusion, harbor reduction, mechanical controls, environmental controls, product application, and documentation services. Our trained and certified pest professionals can provide exceptional pest protection for a wide variety of businesses and industries,, including:
Pharmaceutical

Food Processing

Restaurants

Hospitality

Food processing facilities

And more!
We can work together to eliminate current pest problems plaguing your business and put into place a long-term solution that will prevent the return of pests. Give us a call to learn more about our commercial pest control services for your Newburgh business!
How Does Mosquito Control Work In Newburgh, Indiana
Action Pest Control provides the mosquito control services needed to protect Newburgh properties from being overrun by mosquitoes. Mosquitoes are considered highly dangerous pests because of their ability to transmit serious diseases to people and pets. To help protect your family from biting mosquitoes, Action Pest Control offers highly effective mosquito control options. Our mosquito control services begin with an inspection of your property by one of our professionals. They will locate mosquito breeding and resting areas, then provide treatment using EPA-approved mosquito control products. The EPA-approved products Action uses work to reduce mosquito populations by reducing the number of incoming mosquitoes and preventing mosquito larvae from hatching into new adults. Our mosquitoes control options include:
Seasonal mosquito treatments (April-October)

One-time mosquito services

Community-wide abatement service
To learn more about our mosquito control services, give us a call today. We would love to hear from you!

Schedule Your

Free Inspection

Complete the form below to schedule your no obligation inspection.